2009-06-12
G8: The Schengen Treaty is to be suspended from 28 June to 15 July
The Italian Government proposes to restore border controls by suspending the Schengen Treaty from 28 June to 15 July. This proposal has been formally given by the Minister of Home Affairs Roberto Maroni on 30 May during the final media conference of the Justice and Home Affairs Ministers' meeting.
This proposal has been formally enshrined in a letter from the Ministry of Home Affairs to the countries party to the Schengen agreement on the free circulation of people, in order to guarantee the security of the local population, of the delegations and of the world leaders who will be meeting in L'Aquila for the Summit from 8 to 10 July.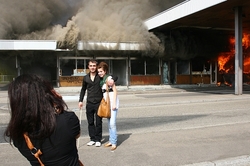 This is one of the security measures -- a measure which has also been adopted on previous occasions -- that the Government is planning to bring into force ahead of the Meeting in July, when some of the world's most important leaders will be converging on L'Aquila.
European citizens in the Schengen area, who have been able to move around freely in those countries party to the Treaty since the early 'nineties, will once again be subject to border controls before being allowed to enter Italy. A similar measure was adopted back in 2001 when the G8 summit was held in Genoa. Italian citizens, too, will be required to take their passport or some other form of ID with passport status with them when travelling abroad, in order to comply with the regulations in force in their country of destination.
The Schengen agreement expressly allows any individual member country in the area (whose members are Austria, Belgium, the Czech Republic, Denmark, Estonia, Finland, France, Germany, Greece, Hungary, Italy, Latvia, Lithuania, Luxembourg, Malta, The Netherlands, Poland, Portugal, Slovakia, Slovenia, Spain, Sweden and three non-EU countries: Iceland, Norway and Switzerland) to suspend the free circulation of citizens when special events are due to be held. The suspension must comply with a set of very specific rules, and in every instance it can be enforced for a limited period of time only.
Source: http://www.g8italia2009.it/G8/Home/News/G8-G8_Layout_locale-1199882116809_1199897991313.htm