2009-07-08
AGNOLETTO: 'THE SECOND PUNATIVE SUPPRESSION AFTER VICENZA.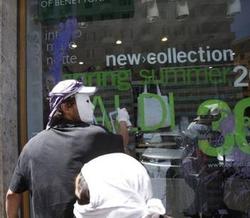 THE

GOVERNMENT

feeds a climate of tension.

WHAT

IS

NOT

TO

FILL

THE

FAILURE

OF

SUMMIT

ANNOUNCED

.
Milan, 6 July 2009 – "The arrests today are intolerable – said Vittorio Agnoletto, outgoing MEP, spokesman of the Genoa Social Forum at the time of the G8 in Genoa – have never seen precautionary measures preventive, aiming apparently to criminalize an entire movement.
Stop the wave of protesters two days after the G8 de L'Aquila is a clear message from the government, that in so doing feeds and exacerbates the climate of tension to the event (as he had done at Genoa, eight years ago). It is the second episode of what happened the other day in Vicenza, where I participated in the march against the Dal Molin base and where demonstrators have done everything to not fall into the trap of the forces order.
Source: http://www.indymedia.org.uk/en/2009/07/433983.html