2009-07-09
CONTRO IL G8, CONTRO LA REPRESSIONE, DALLE UNIVERSITA' AI QUARTIERI!
On july 7th, during the 'welcome day to G8s', the InfoPoint available for the activists who responded to the call out 'V-strategy' in order to take part into the protests against this summit got cleared after police disproportionate repression and consequent arrests.

Today july 9th we start again from there " a building of university Roma Tre " to carry on a project of collaboration and protest whose first step was the release of an abandoned place that was taken back to life in terms of contents and relationships inside the protests against G8; it allowed local and International students and activists to share important moments.
Without losing heart for the strong repression suffered, today we claim our right to demonstrate and to scream our ideas; that's a right that was denied to all those who were deprived of their personal freedom and who are now in jail only because were demonstrating their dissent against the powerful ones who don't like disapprovals just to go on managing our lives to protect the personal interests of the 'eight greats' and of the economic governance whose they're slaves, forgetting the rights of the people for whom we were demonstrating.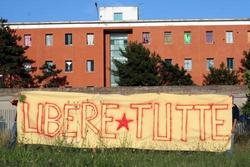 That was clearly undestood by the neighbours of Testaccio, who espressed their solidarity towards the students and the other demonstrants chased by the police; that's very important to keep a unity from the lower, because the crisis we're facing carries consequences that are flowing and will flow more and more over working-class and the precarious workers who we will be.
Crisis is heavy, and its price is paid twice by those who suffer from its economical consequences and, aware of that, show their dissent.
Push G8 to crisis!
FREEDOM FOR ALL
FREEDOM FOR THE STUDENTS ARRESTED
FREEDOM FOR LAURA
Roma3 Students against G8
Source: http://g8.italy.indymedia.org/node/652