2009-07-04
600 people demonstrated against G8 in Berlin
Today 4th of july around 600 demonstrators showed their solidarity with the protests in Italy against G8 and expressed resistance against "security architectures" (see the call on http://www.gipfelsoli.org/Home/7241.html. With the slogan "Quake G8 – We are your crisis" the march started in Kreuzberg, passed the italian chamber of commerce and crossed the center of Berlin with russian and british embassy ending at Brandenburger Tor, next to the french and US embassy (which was abandonned because their party was shifted to western Berlin). Slogans shouted at the demonstration were like "Berlin, L`Aquila, resistance is international", "A, anti, anticapitalista" and "G8, G8, we are here, the black block from Genoa" (that sounds more nice in german).
Several speeches were held, such as focussing on G8 and climate politics, G8 and militarism and war, the mobilization in Italy, the protests in Vicenza today and the courtcases in Genoa against activists and police. A solidarity note was sent to the big demonstration in Vicenza. Italian comrades explained some dates of the mobilization. Solidarity was shown with the two italians that were imprisoned yesterday, accusing them being part of an "anarcho-insurrectionalist conspiracy". Police claims that they tried to sabotage a railway line by placing "iron couplers" at the electrical cables that should tear them down when a train is passing (see http://tarnac9.wordpress.com for similar investigations in France).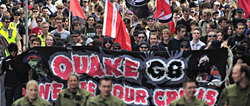 At the main office of "Bertelsmann", a german corporate, it was focussed on G8 and education. Bertelsmann is one of the main lobbyists of german foreign policy, running institutes and research programmes advising steps towards "global security architecture".
At the end of the demonstration, in front of the french embassy, it was focussed on the antimilitarist resistance at NATO summit in Strasbourg and the following repression. Some german and french activists are still in jail, more courtcases will follow.
The police attacked the demonstration to snatch an activist that was accused to have sprayed against G8 on the walls of Berlin city hall. At least one other activist was caught at the end of the demonstration (when many people left already) because she was said to had been attacking the police while they entered the demonstration.
On thursday 9th july there will be an infopoint starting in the afternoon at BAIZ, Torstraße/ Christinenstraße, collecting news from Italy and trying to act as node for people to show solidarity.
Shake G8! Quake G8!
Source: Gipfelsoli
Images:

/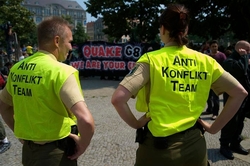 /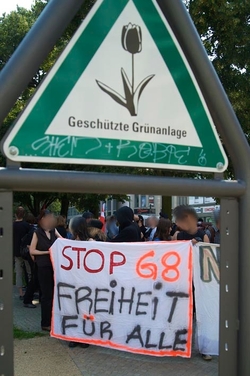 /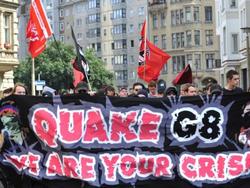 /