2009-06-11
Students protest Gaddafi's Rome visit
Rome - Dozens of students on Thursday booed and jeered Libyan leader Moamer Gaddafi at a meeting held at Rome's La Sapienza university, part of his controversial visit to Italy. "Let us speak! Let us speak!" shouted some of the students who tried to interrupt a question and answer session with the Libyan leader in the university's Aula Magnia great hall.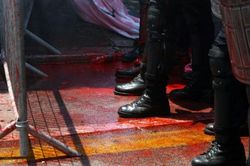 At one stage Libyan security officials, accompanying Gaddafi snatched a microphone from a female student after she had identified herself as the member of the Onda, or Wave group of leftists students who organized Thursday's protests, the ANSA news agency reported.
Earlier scuffles broke out between demonstrators and police who had cordoned off part of the university campus.
Protestors carried banners condemning a recent Rome-Tripoli accord aimed at curbing illegal immigration across the Mediterranean Sea and which entails the deportation to Libya of migrants intercepted by Italian authorities in international waters.
United Nations officials, the Catholic Church and rights activists have slammed the deportations, saying they violate the rights of refugees and asylum-seekers.
Gaddafi referred to the immigration issue in a speech to Italian lawmakers earlier Thursday.
"Let's leave to these human rights organizations the responsibility of finding jobs, medical care and all that is needed for missions of people who could pour into your country," Gaddafi said, in an ironic tone.
The protest at La Sapienza is the latest to mar Gaddafi's first official visit to Italy which began Wednesday with a warm welcome from Prime Minster Silvio Berlusconi at a Rome airport.
The Libyan leader, in an apparent act of provocation, stepped off the plane wearing pinned to the chest of his military uniform, an old photograph of a Libyan resistance leader being held captive by Italian colonial officials.
Gaddafi later said in a meeting with Italian President Giorgio Napolitano that while Libyans cannot forget the injustices suffered during Italy's 1911-1947 occupation of their country, the two nations are now "friends."
He repeated the message to the Italian lawmakers when he met them in a building adjacent to the Italian upper-house of parliament, the Senate.
The venue was chosen after Senate speaker, Renato Schifani, under pressure from opposition lawmakers, cancelled an earlier invitation for Gaddafi to speak in the Senate's main assembly chamber.
"Nothing can compensate for the blood spilt by Libyans," who fought against Italy's colonial occupation of their country, Gaddafi, wearing a traditional Bedouin robe, told the lawmakers.
Under a friendship agreement signed in 2008, the Italian government pledged to invest some 5 billion dollars in Libya over the next 25 years as compensation colonial-era damages.
Gaddafi in his speech to the lawmakers, also condemned terrorism, comparing attacks by Osama bin Laden's al-Qaeda to air raids ordered in 1986 against Libya by the then US president Ronald Reagan.
Italian opposition leaders are slamming the reception "fit for a statesman" which they say the Italian government is offering Gaddafi, who this year celebrates the 40th anniversary of the coup in which he seized power.
"Our relations with the Libyan people need to be strengthened," said the leader of the centrist opposition UDC party, Pierferdinando Casini, but, he added: "we have to show respect for our history and for the people who are suffering in that country (Libya) under that regime."
Gaddafi is scheduled to end his visit to Italy either late Friday or Saturday.
In what has become the customary style for a leader who takes pride in his nation's desert Bedouin roots, during his stay in Rome, he is lodging in a tent pitched in the Villa Pamphili public park, which for the occasion has been declared off-limits.
Source: http://www.earthtimes.org/articles/show/272797,students-protest-gaddafis-rome-visit--summary.html