2009-06-11
Italy arrests G8 attack suspects
Italian police have arrested at least four people on suspicion of planning an attack on the G8 summit of rich countries next month.
The suspects were detained in several cities and accused of criminal association for the purposes of terrorism and possessing weapons.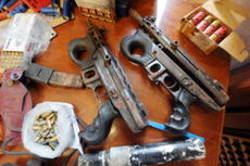 Italy will host G8 leaders on 8-10 July in L'Aquila, Abruzzo region.
At least one is said to have links to the Red Brigades, a left-wing group that carried out attacks in the 1970s.
The city was badly damaged in an earthquake that shook the central region in April, leaving some 60,000 people homeless.
The meeting of the industrialised nations was first planned to be held on the Sardinian island of La Maddalena.
Italian Prime Minister Silvio Berlusconi shifted the venue weeks after the earthquake to focus attention and government resources on the disaster-hit territory.
Among those arrested was Ernesto Morlacchi, son of one of the founders of the Red Brigades, the French news agency AFP reported.
Material seized included a bomb in searches carried out in Rome, Milan and Genoa following a two-year investigation, local media reports said.
Source: http://news.bbc.co.uk/2/hi/europe/8095033.stm