2009-05-20
Italian police baton charge students
Italian police fought running battles with thousands of students protesting over the economic crisis yesterday on the sidelines of an international meeting of university leaders.
Nineteen police and two demonstrators were injured, Ansa news agency reported as they fired tear gas and staged baton charges in a bid to break up the protesters in the centre of Turin.
The troubles erupted only a few weeks before Italy hosts the Group of Eight (G8) industrialised powers summit.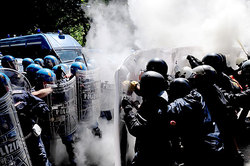 The students tried to break through a security cordon around the Valentino castle where 40 university rectors from 19 countries were meeting as part of a G8 preliminary meeting.
The demonstrators hurled rocks and fire extinguishers at police who responded with baton charges and volleys of tear gas. The students tried to attack several nearby banks.
The university chiefs are in Turin to discuss the impact of the world economic crisis and durable development.
Francesco Profumo, the rector of Turin's polytechnic, Italy's oldest technical university, organised the meeting.
He said: "Our initiative, the four T's - tolerance, talent, technology and Turin - have a meaning but the general student unease is clear to see."
"We have a big communication problem, we have to change the way we communicate with the students," he said.
Italy's police unions said the clashes were a alarm bell ahead of the G8 summit.
"We are very worried because in Turin we have seen scenes of violence that we though belonged to the past," Christiano Leggeri, a leader of the UGL police union, said.
When Italy last hosted the G8 summit in Genoa in 2001, there were serious clashes between anti-capitalist demonstrators and police. One young demonstrator was killed.
Source: http://www.gulf-times.com/site/topics/article.asp?cu_no=2&item_no=291773&version=1&template_id=39&parent_id=21