2008-07-11
Italy summit switch?
RUSUTSU , Hokkaido (Kyodo) Italian Prime Minister Silvio Berlusconi has hinted that next year's Group of Eight summit may not take place on the small island of La Maddalena as planned.
Berlusconi said it is "possible" that Italy may change the venue of next year's G8 summit if the country finds it difficult to set up necessary facilities there, according to Italian reporters, who attended his news conference Wednesday.
Berlusconi, however, did not specify an alternative site for the 35th summit at the news conference, which was held only in Italian with no interpretation, after the end of this year's three-day summit in Toyako, Hokkaido.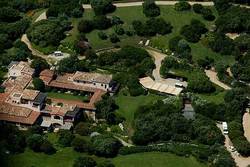 This is the first time the Italian leader has floated the idea of changing the site of next year's G8 summit from La Maddalena, the reporters said.
They said there are rumors that the annual meeting may instead take place in the premier's luxurious villa La Certosa in Sardinia, where Berlusconi hosted a meeting in April with Russian Prime Minister Vladimir Putin, who was president of the country at that time.
In 2007, Italy officially announced that the next summit would be held on the tiny island off northern Sardinia, where the United States had a naval base until recently.
The chair's summary of the Heiligendamm, Germany, summit last year stated that the 34th summit would be held in Toyako, but this year's summary only said the next one would be held in Italy, without further specifying the location.
Source: http://search.japantimes.co.jp/cgi-bin/nn20080711a2.html