2008-07-07
NAVSUPPACT La Maddalena
On September 8, 2006, the Department of Defense announced that the United States would cease operations at NSA La Maddalena, Italy, as a result of a determination that the capabilities provided by the installation are no longer required at NSA La Maddalena. Closure of these facilities was expected to affect more than 1,300 U.S. service members, 88 U.S. DoD civilian employees, 90 contract employees and 178 host nation employees. Facilities affected by that decision were expected to return to the host nation by spring 2008. Also a a result of that decision, the Navy was expected to relocate the submarine repair ship USS Emory S. Land in October 2007.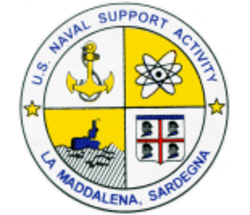 The La Maddalena Naval Support Activity provides a wide range of fleet support. The Mediterranean has always been considered one of the strategic keys to Europe, North Africa, and the Middle East. Located northeast of Sardinia, this base allows the Navy to monitor all shipping in the northern Mediterranean. This base includes activities on three islands connected only by boat service. Submarine Squardon 22 and Submarine Tender, USS Emory S. Land (AS-39) provide mobile repair, weapons handling and logistic support for submarines and other Navy ships operating in the Medditerranean. Commanding Officer, NAVSUPPACT La Maddalena is the local area coordinator for all persons in the Department of the Navy (including those from the operating forces when ashore) and naval activities located ashore in the region of Sardinia, Italy.
The US Navy Support Office La Maddalena, Italy, was commissioned on 1 January 1973. On 1 October 1993, as authorized and directed by Chief of Naval Operations, the command changed its name to "US Naval Support Activity" to more accurately reflect its mission, operations tempo, and tasking. US Naval Support Activity (NSA) La Maddalena provides support to positively influence the readiness of submarines and warships in the Commander in Chief US Naval European area of responsibility. It is a team of about 400 Sailors, Naval Officers, American and Italian civilians that support the home ported submarine tender, embarked squadron, tended units, operating forces of COMSIXTHFLT and all active duty, civilian personnel, and family members stationed in La Maddalena. The community averages 2,500 with over half being active duty naval personnel.
Commanding Officer, NAVSUPPACT La Maddalena is the local area coordinator for all persons in the Department of the Navy (including those from the operating forces when ashore) and naval activities located ashore in the region of Sardinia, Italy. The local area coordinator is concerned with any situation that affects the good order, discipline or security of individuals ashore and will issue regulations or advisories as necessary. All US personnel, including family members, are expected to be aware of and comply with such regulations and advisories when ashore. NAVSUPPACT departments include the following: Administration Dept; Comptroller; Family Service Center (FSC); Morale, Welfare & Recreation (MWR); Public Works; Supply; Chaplain; Security Unit; and Legal. Tenant commands of NAVSUPPACT include: Branch Medical (BMC) and Dental Clinics (BDC); Navy Exchange (NEX)/DECA Commissary; Detachment, Resident Agent, Naval Investigative Service Naples; Personnel Support Detachment (PSD); Department of Defense Dependents' Schools (DODDS), American Forces Network (AFN), and Human Resource Office (HRO).
Isola La Maddalena is the largest of the islands of the La Maddalena Archipelago. Topography is rugged, with towering granite masses, coves and gulfs common throughout. Due to topography, local effects dominate the region's weather and conditons vary significantly over short distances.
Submarine tender has assigned mooring on the south side of the

NATO

pier one-third of the way southward along the east coast of Isola Santa Stefano.
Tender is usually Med-moored, bow east, stern to the shore with submarines on either side.
The fuel pier near northeast corner of Isola Santa Stephano is used occasionally by US Navy ships.
The Naval Supply Office is located on Isola La Maddalena about 2189 yards (2000 m) north-northeast of the

NATO

pier on Isola Santa Stephano.
The Fleet landing on Isola La Maddalena is located opposite the northeast corner of Isola Chiesa.
The Palau city pier is located on the north coast of Sardinia and is used by small boats making frequent runs to/from the submarine tender at the

NATO

pier and the Fleet landing at Isola La Maddalena.
Submarines nested alongside the tender can be affected by wave heights greater than 2 ft. Expect an occasional 2 ft wave anytime the sustained wind exceeds about 10 kt for an hour duration over a 3 n mi or more fetch. The Fleet landing on Isola La Maddalena is well protected from seas from all directions except south. However, there are few winds from the south and the fetch is limited to about 6 n mi. The Palau city pier is well protected from most directions but is vulnerable to seas and swell generated by northwesterly Ponente winds.
Port Services, a component of the USS Emory S. Land is responsible for providing logistic support to USS Emory S. Land and for transporting personnel to and from Santo Stefano Island by means of converted LCM-8 crafts. The LCM's pick up personnel from La Maddalena at Ferry Landing and Palau at the pier. Contact Shore Patrol for an up to date schedule. In addition to these responsibilities, Port Services provides crane and tugboat services.
Commander Submarine Squadron Twenty Two, stationed on board the homeported tender, is the executive agent for Commander Submarine Group Eight. As the executive agent, COMSUBRON 22 provides assistance to ships under the operational control of COMSUBGRU EIGHT by monitoring their operational and material readiness and taking action as appropriate to correct deficiencies. COMSUBRON 22, is also the executive agent for COMSUBGRU EIGHT on matters of training. COMSUBRON 22, has direct liaison with the Commanding Officer, Naval Support Activity, La Maddalena, in matters involving La Maddalena facilities and support of military and family members in the La Maddalena area.
NSA is located off the west coast of Italy on the island of La Maddalena between the Italian island of Sardinia and the French island of Corsica in the Straits of Bonifacio. The beautiful seven-island archipelago was designated a National Park in 1994. NSA provides facilities, maintenance support, and security protection to accomplish its mission and those of eight tenant commands. The majority of facilities are leased and dispersed over a three-island area in northern Sardinia. The focal points of operations are the Santo Stefano NATO Site and La Maddalena but there are facilities in Palau, Sardinia, as well. NSA serves as the central receiving point for all materials destined for the home ported tender, ships in repair, and visiting USN units to both La Maddalena and Southern Sardinia, and for all tenant activities.
Sardinia is a small island, and Northern Sardinia doubles in size during the summer months due to the amount of tourists who come here for the beautiful beaches and campsites. During the winter months the summer haven for many turns into a retreat for those who live here providing cool blustry winds, breathtaking views of the sea, and some of the finest cappucino in Italy. In 1822, the United States sought to obtain La Maddalena as a base to protect its shipping from active pirates in the Mediterranean. The Sardinians refused the request as they were building a full-sized naval base here with naval stores, forts, batteries, an armory, a shipyard, artillery, fleet and command facilities. In 1972, the Italian government granted the United States Navy its "homeport" in La Maddalena.
The island's primary economic support comes from tourism, heaviest from June through mid-September. The permanent population numbers about 17,000 people (11,000 La Maddalena civilians, 3,500 US Navy personnel and family members and 2,500 Italian Navy personnel). From June to September when the tourists arrive, the population increases to as much as 75,000! Many of the tourists live in tents and camping areas, because hotel space and housing are limited through the peak tourist months. La Maddalena provides pierside access for small freighters, ferries, fishing and touring vessels. The Radi di La Maddalena, east of Santo Stefano island, provides deep water anchorage for the homeported submarine tender (USS SIMON LAKE). Access to the ship is by Navy-operated LCMs, some of which have been converted to closed configuration for use as personnel carriers.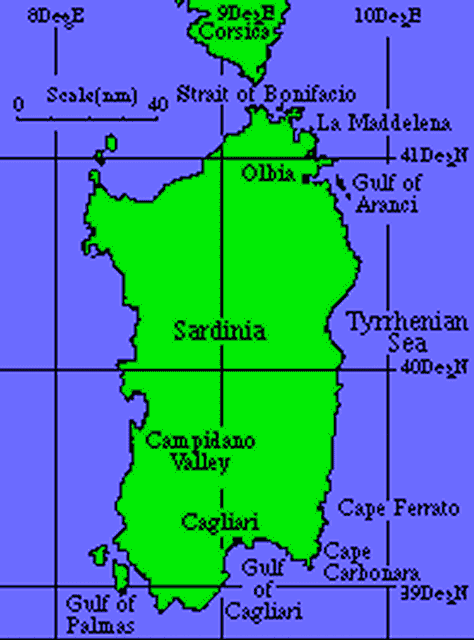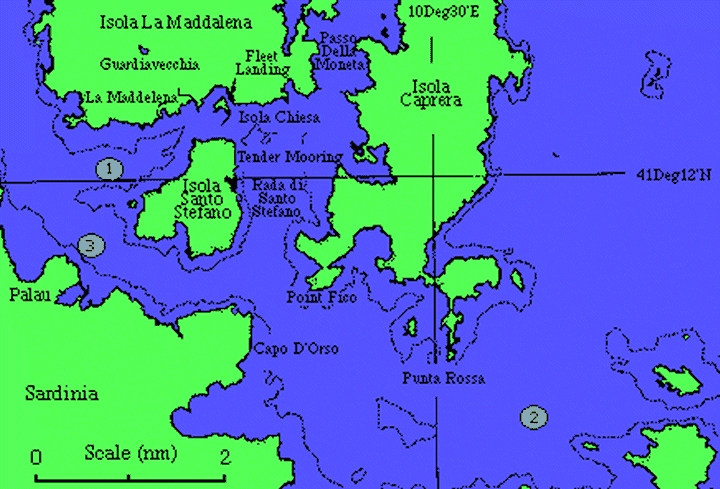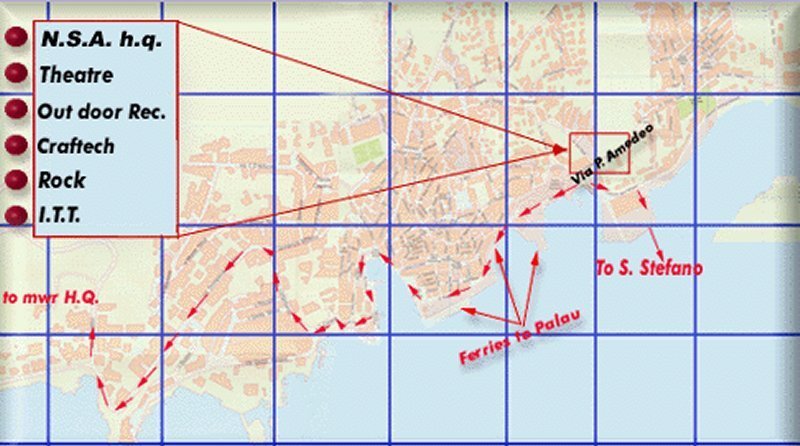 Source: http://www.globalsecurity.org/military/facility/la_maddalena.htm