2012-08-27
Policeman cleared of Ian Tomlinson's G20 killing Simon Harwood to face disciplinary hearing
A police officer who was cleared of killing Ian Tomlinson during the G20 protests will face force disciplinary proceedings on September 17.
Pc Simon Harwood was acquitted of manslaughter last month, but police watchdog the Independent Police Complaints Commission (IPCC) ordered that he should face the internal Metropolitan Police hearing in public.
Today, Scotland Yard confirmed that a gross misconduct hearing in front of a panel of three people including a senior officer and a lay person will take place on September 17. It is expected to last up to four weeks.
Harwood hit Mr Tomlinson with his baton and shoved him to the ground near the Royal Exchange Buildings in the City of London in April 2009.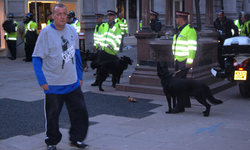 The 47-year-old, who was an alcoholic and had slept rough for a number of years, managed to walk 75 yards before he collapsed and later died from internal bleeding.
Harwood told jurors at Southwark Crown Court that he had used only reasonable force, and was cleared of killing the father-of-nine.
Jurors in an inquest into the death had earlier returned a verdict of unlawful killing.
The officer, 45, from Carshalton in Surrey, had a controversial disciplinary record before the fateful day when he came across Mr Tomlinson.
A series of allegations were made against him over a 12-year period, and he was allowed to retire from the Met on medical grounds in 2001 despite unresolved disciplinary proceedings.
He was accused of unlawful arrest, abuse of authority and discreditable conduct over an incident when he allegedly shouted at another driver and knocked him over his car door, before announcing he was a police officer and arresting the motorist on a common assault charge.
But the proceedings were discontinued when he retired.
Later, Harwood rejoined the force as a civilian worker, before becoming a police officer for Surrey.
He was then allowed to rejoin the Met in 2004 as part of its Territorial Support Group (TSG), specialising in public order.
Deputy chairwoman of the IPCC Deborah Glass said after the court verdict: "The circumstances of Pc Harwood's return to the MPS (Metropolitan Police Service) in 2004 raised grave concerns about MPS vetting procedures.
"I have commented in previous cases on the damage to public confidence that can result when police officers are allowed to go before disciplinary matters have been concluded – it is all the more alarming when police officers who have avoided disciplinary proceedings by resigning or retiring are able to come back."
Metropolitan Police Deputy Assistant Commissioner Maxine de Brunner admitted that proper checks had not been made.
"It is clear that insufficient recording and checks meant that detailed information regarding the officer's misconduct history was not shared at key points. We got that wrong.
"Since then there have been huge changes to vetting processes. Now, all applicants, including officers applying to becoming police staff, as well those re-joining or transferring from other police services, are formally vetted and this involves a full misconduct intelligence check."
Source: http://www.independent.co.uk/news/uk/crime/policeman-cleared-of-ian-tomlinsons-g20-killing-simon-harwood-to-face-disciplinary-hearing-8069619.html