2011-05-23
Wife of G20 protester Ian Tomlinson is suing Met over his killing
by Tom Pettifor
Julia Tomlinson has lodged papers at the High Court which are thought to be a damages claim for assault.
Her action follows Ian's inquest where jurors found he died as a result of being hit by PC Simon Harwood at the G20 demo two years ago.
Compensation is expected to be a five-figure sum and is unlikely to be strongly contested by the Met police.
But it will not be settled until after disciplinary and possible criminal action against PC Harwood.
Mrs Tomlinson's writ names Commissioner Sir Paul Stephenson as the respondent.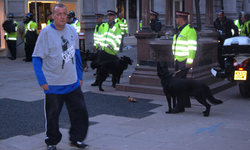 Director of Public Prosecutions Keir Starmer is now reviewing his decision last July not to prosecute PC Harwood – a move which caused outrage. Earlier this month, inquest jurors concluded the officer used excessive force when he struck the newspaper vendor, 47, on his legs with his baton and shoved him to the ground in central London. They returned a verdict of unlawful killing.
Alcoholic Mr Tomlinson, who posed no threat to police, suffered massive internal bleeding when he fell.
PC Harwood, 44, is now set to face the first public disciplinary hearing in Scotland Yard's history.
The Independent Police Complaints Commission has ruled the officer be denied the usual closed proceeding because of the gravity of the case.
It is possible the riot squad officer could face manslaughter charges.
He has already been suspended on full pay for two years, spending his time at home in Carshalton, Surrey, where he lives with wife Helen and their two young sons. He went off sick a week after Mr Tomlinson's death.
The disciplinary hearing could be further delayed until the DPP reaches a decision about whether he should face a criminal trial.
Police initially denied Mr Tomlinson had contact with police officers before his death in April 2009.
The IPCC only launched a criminal inquiry a week later after video footage surfaced.
PC Harwood is facing four accusations of gross misconduct, including using unnecessary force and that his "dangerous actions inadvertently caused or contributed to the death of Mr Tomlinson".
Source: http://www.mirror.co.uk/news/top-stories/2011/05/23/wife-of-g20-protester-ian-tomlinson-is-suing-met-over-his-killing-115875-23149738/