2011-05-03
Newspaper seller Ian Tomlinson WAS unlawfully killed by G20 police offer using 'excessive and unreasonable force'
Ian Tomlinson was unlawfully killed by a Scotland Yard officer at the G20 protests, an inquest jury ruled today.
Criminal proceedings could reopen against Pc Simon Harwood after jurors ruled he acted illegally, recklessly and dangerously in shoving Mr Tomlinson to the ground.
Evidence from Pc Harwood and pathologist Dr Freddy Patel was discredited as part of the verdict which will prompt reviews by both the Crown Prosecution Service and the Metropolitan Police.
Dr Patel has now been suspended from the Home Office register of pathologists.
Mr Tomlinson, a homeless 47-year-old newspaper seller, collapsed and died on the fringes of the demonstrations in central London on April 1 2009.
The death became an international controversy after New York businessman Christopher La Jaunie handed footage he had taken of the police confrontation to the Guardian newspaper.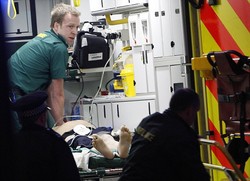 Prosecutors said last year that a decision not to pursue charges against Pc Harwood could be reviewed in the light of the inquest's findings.
Dr Patel's claim that Mr Tomlinson died of a heart attack was discredited by the jury in favour of a string of experts who said he died of internal bleeding.
Pc Harwood was accused by the victim's family of telling lies in a bid to get off the hook.
Mr Tomlinson had been turned away from a line of officers with his hands in his pockets when Pc Harwood hit out.
CCTV images, police helicopter footage and hand-held video recordings show Mr Tomlinson cutting a lonely figure as he staggered away from a police cordon after being hit with a baton.
Footage shows Mr Tomlinson gesturing to police and appearing angry after being sent tumbling to the ground.
He eventually collapsed flat out and muttered 'they got me, the f***** got me' before dying minutes later. Scotland Yard colleagues were shocked by Pc Harwood's actions.
Pc Kerry Smith said: 'He (Mr Tomlinson) sat up and looked towards us and he said 'I just wanted to go home'.'
Appearing for three days at the hearing in Fleet Street, central London, Pc Harwood apologised to family members for 'any way' he may be responsible for the death.
But relatives' lawyer Matthew Ryder QC said he told 'half truths' and 'deliberately painted a false picture of Mr Tomlinson'.
The barrister added: 'I am going to suggest to you that you are not here to help Mr Tomlinson's family but to help yourself.'
Mr Tomlinson, who was born in Matlock, Derbyshire, was an alcoholic with a series of medical complaints who had slept rough for 20 years.
Dr Patel initially found the death was consistent with natural causes because the newspaper seller had coronary artery disease and could have died at any time.
But another two pathologists, Dr Nat Cary and Dr Kenneth Shorrock, later carried out their own post-mortem examinations and came to a different conclusion.
Dr Cary suggested that Mr Tomlinson could have been pushed so he fell with his right arm trapped under his body, hitting his liver and causing it to bleed internally.
Widow Julia said the death devastated her family, adding: 'I remember feeling he was the best thing that ever happened to me.'
Keir Starmer QC, director of public prosecutions, will carry out a 'thorough review' of his decision not to prosecute Pc Harwood, the Crown Prosecution Service said.
The review will consider information that emerged about Mr Tomlinson's death during the inquest.
The CPS spokesman said: 'It will take into account all of the evidence now available, including any new evidence that emerged at the inquest, the issues left by the coroner to the jury and the conclusions they reached.
'The review will be conducted as quickly as is compatible with the care and rigour required in a thorough exercise.
'It accords with our usual practice and the Attorney General's review into deaths in custody published in 2003.'
The Director of Public Prosecutions is to review the decision not to prosecute Pc Simon Harwood for his role in the G20 protest death of Ian Tomlinson.
The Crown Prosecution Service (CPS) said the review would take place as quickly as possible.
A spokesman said: 'The Director of Public Prosecutions, Keir Starmer QC, made it clear last year that the decision not to prosecute anyone in relation to the death of Mr Ian Tomlinson would be reviewed in light of the evidence heard at the inquest.
'That review will now take place and will be thorough.'
Dr Freddy Patel had already botched previous post-mortem examinations dating as far back as 2002 by the time Ian Tomlinson died in 2009.
But he remained on the Home Office's register of forensic pathologists authorised to investigate suspicious deaths.
As a result, City of London coroner Paul Matthews had no concerns about asking him to carry out a post-mortem examination of 47-year-old Mr Tomlinson's body.
But the pathologist allegedly committed blunders which made it all but impossible to conclude with any certainty how the newspaper seller came to die on the fringes of the G20 protests in London on April 1 2009.
In particular, his notes were ambiguous and he did not order tests on three litres of fluid found in Mr Tomlinson's abdomen to confirm whether it was pure blood or – as he maintained – largely made up of a substance called ascites produced by liver disease.
This question was crucial because fellow pathologists Dr Nat Cary and Dr Kenneth Shorrock disputed Dr Patel's findings that the cause of death was coronary artery disease, consistent with natural causes.
The other experts concluded that Mr Tomlinson died as a result of internal bleeding, probably from his diseased liver after he fell on his elbow when Pc Simon Harwood shoved him to the ground.
If the liquid discovered in his abdomen was wholly or mainly blood this would support Dr Cary and Dr Shorrock's views – but it was thrown away before analysis could be carried out.
Dr Cary told the inquest he believed the fluid contained a 'substantial' amount of blood, adding: 'In an ideal world, it certainly should have been kept.'
Prosecutors concluded there was no realistic prospect of obtaining a conviction over the death because of the 'irreconcilable conflict' between Dr Patel and the other two pathologists.
Because Dr Patel was the only pathologist to see Mr Tomlinson's intact body, he would have to be called at any trial as a prosecution witness even though his conclusions would undermine the case.
Dr Patel qualified in 1974 at the University of Zambia and has practised as a pathologist for nearly 35 years.
The General Medical Council has twice sanctioned him for failings in post-mortem examinations in other cases, and he is now suspended from the Home Office register.
He was suspended for three months in September after a disciplinary panel found he was 'irresponsible' and failed to meet professional standards during his examinations of the bodies of a five-year-old girl in 2002, a four-week-old baby in 2003 and a woman in 2005.
The GMC gave him a further four-month suspension in March for dishonest conduct and for mistakes he made in post-mortem reports into the death of the first victim of 'Camden Ripper' Anthony Hardy in 2002.
Mr Matthews said he only learned that Dr Patel was under investigation when the GMC's solicitors wrote to him in May 2009.
Source: http://www.dailymail.co.uk/news/article-1383094/G20-inquest-Ian-Tomlinson-WAS-unlawfully-killed-police-officer.html