2004-01-22
Trials in Berlin
On Thursday, 27th of March, a court in Berlin sentenced the activist Timm because of violent rioting and bodily harm during the EU-Summit in Gothenburg 2001. This trial was the first one against a activist charged because of GBG2001 and took place in Germany. The conditional(!) sentence is two years prison with a three year period of probation. The evidences against him were pictures taken during the riots on the Avenyn and at the Vasapark. There were no prosecution witnesses from Sweden. This is worth mentioning, because it would have lead to high expenses for the sentenced. Timm confessed the counts of the accusation and justified his actions with the aggressive behavior of the Swedish Police.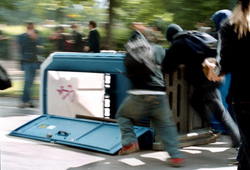 On the 8th Feb. Timm was taken to custody after his home was searched. Among the stuff the police took with them were clothes, letters, pictures. He had to stay in custody for 34 days.
Erik Wijk wrote a press release (in Swedish) regarding this trial, which can be found on Swedish Indymedia in the comments area: http://sweden.indymedia.org/front.php3?article_id=40007&group=webcast There Wijk compares this sentence to similar sentences in Sweden. There are articles in the Swedish media, but as far as we can tell some facts are really screwed up there.
There are at least eleven persons in Germany, that are subject of investigations or are accused because of GBG2001. That this number is higher than the famous seven Germans, that the public prosecutor in Gothenburg was talking about, can be explained with the efforts of German Police and Prosecution, mainly in Berlin. Four of the accused are from other cities than Berlin or the district surrounding Berlin and are probably among these seven. The additional accusations base on investigations done by the Criminal Investigation Department Berlin. It seems, that they work a lot with the evidences they got from Swedish authorities and compare it with their own files. Some of the 'new' cases affect people who were NOT arrested or got into controls during the summit or on the way there.
It is confirmed, that the cooperation between Swedish and German police/prosecutions was not just very close before and during the summit, but still is. For example in January Swedish Police and Prosecutors traveled to Berlin probably because of the searches (By the way, they also paid a visit to the Luxemburg-Liebknecht-Demonstration, where also some activists/groups from Sweden were present).
Apperantly the German investigations not just aim at condemning activists, but also use this occasion to get more informations about local structures. There have been extensive observations in Berlin, which somehow cannot only be justified with what the observed person should have done in Gothenburg. Also during interrogations questions drifted away to topics that had nothing to do with Gothenburg. In fact this is nothing new but is rather common since many years that investigators take advantage of inquiries and gather informations on groups and their activities.
The condition to transfer the charges from Sweden to Germany is, that the assumed crime must be punishable in both countries. This does not just affect Sweden and Germany, but all countries that signed the "European Convention on Mutual Assistance in Criminal Matters" from 1959. http://conventions.coe.int/Treaty/EN/WhatYouWant.asp?NT=030 gives the full text of this convention and also which countries signed it. If and how Eurojust has to do with this is still unclear. More on Eurojust: http://www.statewatch.org/news/2002/feb/02Aeurojust.htm
The German law regarding rioting is quite similar to the Swedish "vaaldsamt upplopp". The German lawbook also distinguishes between rioting and violent rioting ("schwerer Landfriedensbruch"). The German violent rioting is punishable with imprisonment between six month and ten years. There is a slight difference between "Landfriedensbruch" and "vaaldsamt upplopp": In Sweden it is desicive if the crowd was violent, but in Germany it must be proved, that the individual was acting violent. So in Germany you can be part of a violent riot and getting accused just for a 'regular' riot - on condition they can't prove more than that you were present at the riot (and on condition you got caught, of course).
All accusations transfered from Sweden to Germany are about rioting. In one case this transfer did not work out. The search warrant against one German activist, that is supposed to have taken part in the outbreak of the White Overalls from the Hvitfeldska School during the summit, was refused by a German court (in Germany house searches must be approved by a judge). Here the evidence was - once again - footage from the Swedish police. The judge came to the conclusion, that it was not obvious that this outbreak was a "Landfriedensbruch". The investigators then tried to justify the search warrant with the law against "passive armament", but it was refused by the Swedish prosecutor, because there is not anything like this in the Swedish lawbook (The German paragraph against "passive armament" prohibits to wear protection or masks during a demonstration).