16.07.2008
Three comrades who had been jailed since July 5th were released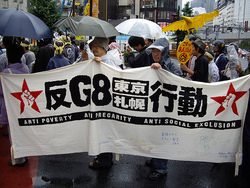 Three comrades who had been jailed since July 5th were released at 9:30 this morning!
Their jail time was shorter than 23 days, the common length in the
police state Japan. We believe that it was thanks to your attention
and solidarity from the world over.
From now on, we will demand compensation for the destroyed track and
continue to protest against the unlawful crackdowns before and after
the G8. Please keep an eye on coming events.
Source: email