09.07.2008
The detainees in Sapporo
Summary extracted from http://www.anticapitalistas.net
Just released information about the detainees at the Sapporo demonstration
4 people were detained during the anti-G8 demo on 5 July in Saporro, even though the demonstration was authorized, peaceful. The only property destruction was carried out by the police.
A Reuters camera operator was detained and charged with kicking a police officer
[…]
while a line of riot cops was preventing jouirnalists from getting close to the demonstrations. The second arrested was an activist who was djing from a loudspeaker wagon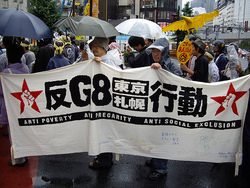 […]
The other two arrests happened when the police attacked the authorized loudspeaker wagon.
[…]
The three activists detained where charged with "violating traffic laws and the special orders for the demonstrations in Sapporo" as well as "obstructing police work".
The journalist was released on Monday at 7 pm but the other three arrested who went to the judge on Tuesday morning who ordered an extension of their detention for ten more days as "protective custody." This practice has been widely criticized by human rights organizations as they are continuing to be held in custody at the hands of the police, are assumed to be subject to constant long interrogations well into the night, having to remain in a kneeling position for a lengthy amount of time. It is also common that during such arrests, the police register the domicile of the detained persons and their families, regardless of how this information is relevant to their activities, which can lead to additional charges. In addition, this type of arrest could be prolonged for yet another ten days, as the maximum period of detention in Japan is 23 days.
[…]
An appeal has been sent out for international support by organizing demonstrations in front of the Japanese embassy in your country on July 12 to mark a week since the first arrests.
the original Spanish report below:
noticias de los detenidos en la manifestación de Sapporo
Durante la manifestación contra el G8 del 5 de julio en Sapporo fueron
detenidas 4 personas, pese a que la protesta estaba autorizada, fue
totalmente pacifica y se desarrollo sin ningún tipo de daño contra la
propiedad ni las personas, salvo los que produjo la propia policía.
Un camarógrafo de la agencia Reuters fue detenido acusado de pegar una
patada a un policía, en un momento en que un grupo de reporteros
forcejeaba con un cordón de antidisturbios que, a empujones, impedía a la
prensa acercarse a los manifestantes. El segundo detenido es un activista
que estaba pinchando musica desde un camión con megafonía que formaba
parte de la marcha, siendo detenido por un grupo de policías de paisano
cuando bajo un momento del camión.
Las otras dos detenciones se produjeron cuando la policía realizo un
ataque contra ese camión, pese a que los organizadores de la protesta
tenían permiso para llevarlo como parte del bloque. Hacia el final de la
manifestación varios cordones de antidisturbios rodearon repentinamente el
camión, mientras un grupo de policías de paisano tomaban la caja del
camión y detenían al dj que había reemplazado al primer activista y otro
grupo de secretas se abalanzaban sobre la cabina, rompían la ventanilla
del camión para abrir la puerta y sacaban en volandas al conductor, que
fue violentamente arrestado. Los tres activistas detenidos están acusados
de "violación de la ley de trafico", "violación de la ordenanza sobre
manifestaciones de Sapporo" y "obstrucción de la labor de la policía".
El periodista fue liberado el lunes 7 por la tarde, pero los otros tres
arrestados han sido llevados ante el juez el martes por la mañana que ha
decretado la prolongación de la detención por diez días en régimen de
"prisión substitutiva". Este régimen es muy criticado por las
organizaciones de derechos humanos pues supone que el detenido continúe en
manos de la policía, sometido a constantes interrogatorios durante muchas
horas, incluidas las de sueño, teniendo que estar continuamente sentado
sobre las rodillas en una postura estática. Es común que durante estos
arrestos, la policía registre el domicilio de la persona detenida y de su
familia, aunque esta no tenga relación con sus actividades, lo que supone
un castigo añadido. Además, un arresto de este tipo puede ser prolongado
diez días mas, por lo que el periodo de detención máxima en Japón es de 23
días.
El próximo día 12, al cumplirse una semana de las detenciones, se van a
realizar actos de apoyo a estos tres activistas en cinco ciudades
japonesas para exigir su liberación. Los convocantes piden apoyo
internacional organizando actos en esa misma fecha frente a las embajadas
y consulados japoneses.
Source: http://anticapitalistas.net/2008/07/ultimas-noticias-de-los-detenidos-en-la-manifestacion-de-sapporo/
Source: Media G8way