2008-07-07
Kept at arm's length, protesters slam G8 leaders
SOBETSU, Hokkaido — Marching in light rain, more than 100 antisummit protesters accused the Group of Eight industrialized nations of contributing to poverty and global warming as they made their way to Toyako from the small town of Sobetsu, Hokkaido, on Monday.
With raised fists, the protesters shouted, "We're against the G8 summit. They are the ones causing poverty and environmental destruction."
The police presence was heavy as the protesters marched toward the lakeshore carrying signs opposing the Iraq war and globalization. Others called on the G8 leaders to rectify the global food crisis.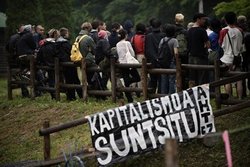 Leading other marchers in chants, one protester shouted, "We don't forgive the G8, which is responsible for the expansion of poverty!"
The demonstrators had gathered near a tent city where some 1,000 activists are staying, some 30 km from the luxury hotel in Toyako where leaders of the G8 industrialized powers are discussing surging food and oil prices along with climate change and African development.
In a rare move, Japanese authorities agreed to let the activists stay in these remote meadows, partly to make up for a shortage of hotel rooms but also to keep better watch on the demonstrations.
Monday's rally was just one of several protests planned during the three-day G8 summit.
Prices of raw materials and food are hitting record highs and driving inflation in emerging economies due to rising demand, increased biofuel production, unfavorable weather conditions and massive inflows of speculative money from hedge funds and other powerful investors.
Riots and protests have erupted in parts of Asia, Africa and Europe, and raised fears of malnutrition from the global food crisis.
The problem is very severe in Asia, where a billion people spend at least 60 percent of their income on food, according to Asian Development Bank President Haruhiko Kuroda.
A 55-year-old nurse from Kobe criticized the G8 countries before the demonstration.
"The G8 summit is used to make adjustments to economic policies only for the rich nations. Poor nations are forced to follow their policies," she said.
Jun Yamamoto, 54, from Kyoto Prefecture, expressed concern about the surging inflation driven by speculative investment and said he doubted the G8 leaders can do anything to stop it.
"They cannot do anything. They need to put a policy on the table to totally stop speculative investment," he said. "Food is really important for our life.
"The inflation's effect is limited here in Japan. But the gap between the poor and the rich has widened. The accelerating inflation is a severe blow to the poor," said Yamamoto, who owns a cram school.
By SHINICHI TERADA
Source: http://search.japantimes.co.jp/cgi-bin/nn20080707x3.html