2008-07-04
We Urgently Denounce the Denial of Visas and Entry to Japan to Members of Civic Organizations and NGOs in Connection with the G8 Summit
We Urgently Denounce the Denial of Visas and Entry to Japan to Members of Civic Organizations and NGOs in Connection with the G8 Summit, and We Strongly Insist Again that Nothing Interfere with Opportunities for Members of Civic Movements to Exercise Freedom of Speech, Expression, and Assembly.
July 4, 2008
Network of Lawyers Observing Human Rights Around the G8 Hokkaido Toyako Summit (WATCH)

G8 Action Network

Hokkaido Peoples' Forum on G8 Summit

2008 Japan G8 Summit NGO Forum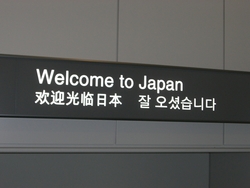 In response to the Hokkaido Toyako (G8) Summit, which is being held from July 7th through the 9th, many civic organizations and NGOs have planned seminars and international colloquia on problems related to the environment, peace, human rights, poverty, and development. However, over the past two days there have been reports of case after case of individuals connected to these civic organizations and NGOs who were scheduled to attend these events, but were refused visas to travel to Japan on site at embassies or denied entry to Japan at airports.
To the extent that we are able to stay on top of these developments, we have learned that over the past two days members of Bangladeshi NGOs were denied visas at the Japanese Embassy in Dhaka without any explanation regarding the reason.
Meanwhile yesterday at the Chitose International Airport, all nineteen members of a farmers' organization from Korea were denied entry on the grounds that they had no proof documenting their plans for their stay in Japan.
In addition to such developments, an individual with an international NGO based in the Philippines gave up on coming to Japan after delays in the visa issuance process, and it concerns us that similar visa delays and denials will continue with similar effects.
These members of civic organizations and NGOs received official invitations from civic organizations and NGOs in Japan, and many were scheduled to speak at seminars. Challenges and difficulties such as restrictions on visas without any particular reason or explanation provided on the grounds that the G8 Summit is convening or the draconian demand to produce proof documenting one's plans in order to be granted entry can only be understood as attempts to deprive citizens the opportunity to freely exchange and express opinions on the most pressing issues facing our world. Not only does this affect civic organizations and NGOs, but it also gives international society reason to lose trust in Japan.
We were in the midst of protesting the recently enhanced immigration restrictions imposed on scholars and reporters around the G8 Summit and now also call on the Japanese government immediately to halt the denials and delays of visas and entry to Japan to members of civic organizations and NGOs and ensure that nothing impedes the rights of citizens to exercise freedom of speech, expression, and assembly.
Source: http://watch08summit.blogspot.com