2008-07-03
Sapporo: Tightening Security for the Summit
The Summit is just a week away.

Security and training are toughening up, and the Hokkaido Police Headquarters has revealed that the officers will number 21,000 strong at its peak.
[Kiyotaka Takahashi, Chief of Hokkaido Police Headquarters at a press conference]

"So far we have been fortifying our police force in stages. From now on we will be implementing security measures with a maximum force of 21,000 men."
For the Summit, approximately 5,000 police officers from Hokkaido and an additional 16,000 officers from the 46 prefectures and metropolitan cities around Japan will be mobilized for the most extensive security preparation in the history of Hokkaido.

On June 29th and 30th, the Hokkaido Police conducted a practice run on the expressway where the vehicles carrying the heads of state accompanied by the security motorcade drove through nonstop to the destination.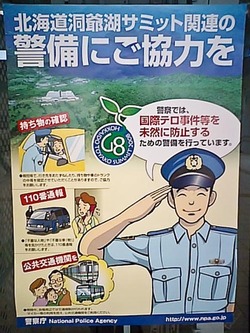 Security will be extended to over 40 VIPs, namely the heads of state of 22 nations including those of G8. During the Summit, traffic in Toyako Town and Sapporo will be frequently regulated
[Reporter Koji Mikuniya]
Meanwhile, the city of Sapporo itself has been placed under tighter security.
"Trash cans which used to be in the middle of the train platform are now collectively placed beside the wicket. They are also transparent to reveal the contents."
As a precaution against suspicious items, the Hokkaido Police has prohibited the use of all coin lockers and ID photo machines at Odori Station and 4 other subway locations from 3 to 10 July.
Tightened security is also affecting the homeless living in the bus terminal in front of Sapporo Station. Since last week "Sleeping Here Prohibited" signs have been put up, and police officers are reportedly making more frequent rounds.
[Interview with a homeless man A]
"All sorts of policemen come around. At night, they'd turn the flashlight on us, or ask what we're doing here..."
[Interview with a homeless man B]
"Guess they want us out of here. If I could get out, I would....without them telling me."
[Interview with a homeless man C]
"I'm here because I don't have a place to go....What's the use of putting up appearances, just because of the Summit?"
Sapporo City is dispatching its personnel to consult with the homeless.
[Interview with Yuji Yamaoka, Manager of the Sapporo City Social Aid Guidance Section]
"We're not shutting the homeless out of the area or doing anything different like taking the opportunity to remove them. All we're doing is asking them to come down to the city office for consultation."
According to Sapporo City, there are 109 homeless living in the city.
There is a shelter for the homeless, but it only houses 6 people.
The city is now considering measures to take in case the homeless are completely shut out.
Source: http://www.hbc.co.jp/g8/eng/news/news0042.html
Images: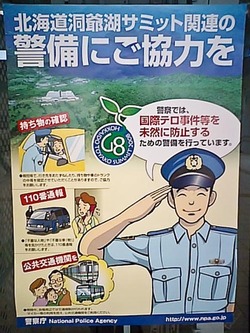 /