2008-06-30
G8 summit protesters scuffle with police
Anti-G8 summit protesters have danced to blaring music and marched down the streets of Tokyo in heavy rain, accusing the Group of Eight rich nations of causing poverty and world instability.
The protests, which have become a fixture at Group of Eight summits, came as Japan tightened security ahead of this year's July 7-9 gathering in Hokkaido, northern Japan.
Two separate rallies in the nation's capital gathered over 1,000 people, including anti-capitalists, labour union members and protesters from abroad, such as Spain and South Korea.
Security was heavy with hundreds of anti-riot police guarding the streets as protesters walked down Tokyo's central shopping districts, carrying signs proclaiming various agendas such as "shut down G8 summit" and "G8hunger".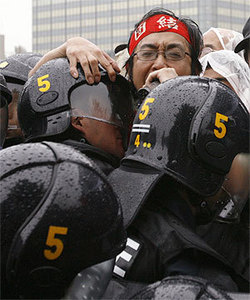 Some protesters scuffled with the police. Japanese broadcaster TV Asahi said two people were arrested. Police could not confirm the report.
"Issues like environmental destruction and poverty in Africa, these are all caused by the G8 governments," said Yu Ando, a 31-year-old working for a municipal government in western Japan.
"I can't stand that they are proclaiming to solve these issues."
For the summit at Lake Toya, about 760km north of Tokyo, domestic and international NGOs such as Oxfam plan to protest a range of topics including globalisation, the food crisis and wars.
Protests are expected near the summit venue – where protesters are expected to gather at three camp sites – as well as in Tokyo and Sapporo, capital of Hokkaido.
But tight security and the sheer cost of travel to the vicinity of the remote summit site could dampen turnout.
Human rights lawyers have said Japanese immigration authorities are making it tough for some activists to get visas by complicating the application process, and media reports said some activists were detained for hours at immigration.
At last year's G8 summit in Heiligendamm, Germany, an estimated 30,000 protesters flocked to the area and entered a restricted zone set up for the summit, as well as blocking land routes into the area.
At Lake Toya, leaders of Britain, Canada, France, Germany, Italy, Japan, Russia and the United States will discuss soaring food and oil prices, along with climate change and African development. Japan has also invited eight other nations, including Brazil, China and India, to hold talks on climate change on the sidelines.
Source: http://www.stuff.co.nz/4601506a12.html