2008-06-27
China and Japan: partners in repression?
Activists on the NO-G8 e-mail list report that three "citizen reporters" from the Hong Kong alternative website In-media, arriving for the upcoming protests against the Hokkaido G8 summit, have been detained by Japanese authorities at the Tokyo airport. Korean activists from KCTU trade union federation have also been barred entry by the Japanese government.
Meanwhile, political dissidents in Shanghai say they have been warned against speaking with foreigners or visiting Beijing until after the Olympic Games.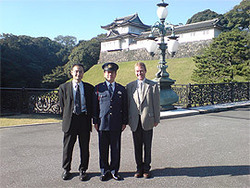 The Chinese government has blocked web sites on topics like discrimination complaints by Chinese carriers of hepatitis—and anti-Japanese protests over Chinese claims to the contested Diaoyu Islands (at issue in the recent deal over hydrocarbon exploitation). (NYT, June 26)
The first Japanese warship to visit China since World War II, the destroyer Sazanami, docked in Zhanjiang, a Chinese naval port in Guangdong province, with a cargo of relief supplies for victims of the Sichuan earthquake—hailed as breakthrough in bilateral relations. (London Times, June 25) It seems there may be downside to this Sino-Japanese warming...
Source: http://ww4report.com/node/5703