2008-03-17
No-G8 Action: We Firmly Condemn Deportation of Martin Kramer to Russia
March 14, 2008, Japanese Immigration Bureau refused entry of and deported a German activist Martin Kramer who came to Japan to participate in anti-G8 summit at Lake Toya held in this coming July.
Martin came to Japan to tell his experience of anti-G8 at Heiligendamm to Japanese movements and deepen exchange with people who share his anger against G8.
We, No! G8 Action, condemn unjust response of Japanese government, and demand the following: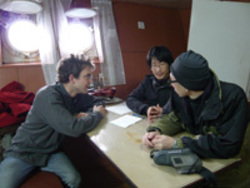 1. State clearly the reason of exclusion of Martin, and apologize officially.
2. Admit Martin to Japan immediately and unconditionally.
3. Back off all refusals of entry on the ground of thought and creed.Admit all activists who will participate in anti-G8 actions unconditionally.
We, No G8 Action, appeal all comrades who raise protests against human rights abuse, reinforcement of security/repression, and surveillance society. Express your will of protest against Japanese government's deportation of Martin Kramer to "Russia" towards embassies of Japan andGermany which he came from.
While in Japan, various groups and networks are going to take some actions against this situation as well as legal groups are going to protest it,and prepare with steadily for help activists around the world enter toJapan, it is necessary to develop domestic and international protest actions against Japanese government for putting over international solidarity in anti-G8 movement in July.
We call on convergence for fight to win our "freedom to move," "freedom ofsolidarity."
NO! G8 Action
no-g8 [at] sanpal.co.jp
Source: http://linux7.sanpal.co.jp