2007-09-06
Statement for the Protest at the German Embassy
We protest the visit of the director of the German Federal Criminal Police Office, Jörg Ziercke, and the chief of the State Security Agency, Kraus Bittling, whose purpose is to crush the anti-G8 movement by sharing information about the arrestees at Heiligendamm and their list of anti-globalization movements with the Japanese authorities. We denounce their unjust collusion and demand withdrawal of the given information.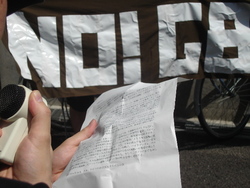 We demand the cancellation of the German specialists' inspection of the site, planned by the Japanese National Police Agency, for this coming late September.
We protest the excessive security measures taken by the German police and military against the anti-G8 movements in Heiligendamm, Rostock, Berlin, Hamburg, and all over Germany.
We demand the immediate release of the activists still held in custody since June 2007.
We demand suspension of all crackdowns against the anti-capitalist and anti-fascist movements.
No! G8 Action, August 14th 2007
[http://a.sanpal.co.jp/no-g8/]
Source: http://a.sanpal.co.jp/no-g8