2007-04-26
we ask for your help and support for the Decentralized Supply of Blockades !!
In the time of the G8 Summit the access and logistic way to the Summit Resort will be blocked by many of us. This can lead us possibly in the situation that the blockading people will be exposed to conditions where they are depending on support and supply from the Camps.
We try to organize the decentralized supply through sending supply teams from the Camps to the Blockades. There they will accommodate our brave combatants with necessities such as food and drinks and possibly first aid.
This requires a good working communication BUT also the Help of YOU !!
As the Blockades may be difficult to reach, not even to speak to arrive there by car, we desperately search for contribution in kind or loan collection of following sort:
Trollies,
Handwaggons,
bike baskets,
water canisters ….basically anything that is capable of transporting goods on foot or by bike.
Furthermore we will need Drivers with Cars and mini buses, motor-cyclists with bikes who would be willing to support this action of solidarity.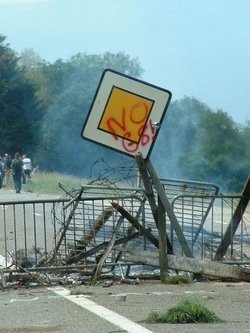 We try to launch the supply groups from Camp Reddelich and Camp Rostock.
For a successful action, we also need Volunteers to carry the goods with the accessible means of transport as close as possible to the Blockades.
Of course we know that in consideration of the circumstances, we cant expect binding covenant, particularly not form our foreign friends. Yet we ask for serious meant responses, because we consider this action as a important necessity that can arise the chances of success of the Blockades. We hope for responses from foreign friends and supporters as well, because we believe that this will give a certain touch of a wider Solidarity and Support which can boost the Group dynamics.
Should you have above named means of transport and have the opportunity to give, bring or lend it to us, please get in touch with: hangup@riseup.net
Should you be interested to support this action as Volunteer, please mail: liaphin[AT]riseup.net
Images: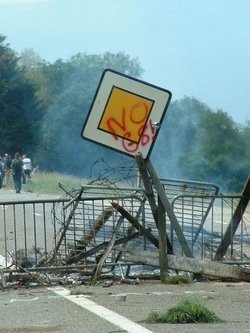 /