2007-08-29
There are too many Bundeswehr vehicles
Worldwide people continually are trying to put military institutions and war equipment out of use, in Germany as well.
Sabotaged: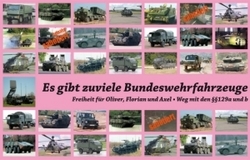 In February 2002 a bus of the Bundeswehr was put on fire in Glinde near Hamburg
In February 2003 some Jeeps of the Bundeswehr burned in Petershagen near Berlin after being set on fire by the "militant group"
In March 2004 the building of the Hako Company, involved in producing the Bundeswehr transport vehicle "Mungo" in Bad Oldesloe is set on fire by the "Working Group Origami – fold up armament projects". At the same time other vehicles of the Bundeswehr parked in a Berlin subsidiary of the company were burned
In January 2006 a soldiers memorial in Munich is targeted in a colour attack by an "Autonomous Group"
In January 2007 the cars of two CEOs of the armaments company Thyssen-Krupp Marine Systems in Hamburg burn, as "Revolutionary anti-militaristic activists" laid fire to them
In February 2007 the windows of the catholic military bishop were smashed, the home of a longstanding consultant of the Ministry of Defense is covered with colour by the "Autonomous Antimilitarists"
Almost sabotaged: In July 2007 the burning of three Bundeswehr-trucks on the areal of the armaments company

MAN

in Brandenburg failed. Since then three antimilitarists are in jail under section 129a. They have to be free.
Source: http://dissentnetzwerk.org/node/3821