2007-04-17
Another 50 days to the summit – we stand by it: The G8 are not welcome, not at Heiligendamm and nowhere else!
Final declaration of the action conference Rostock III from April 13-15, 2007
In just 50 days, the political leaders of the 7 most powerful states of the world and Russia will meet in the Baltic sea resort of Heiligendamm. As has been the custom since Seattle, they will have to carry out their business behind kilometre- long secluding fences and protected by thousands of so-called security agents. The 400 participants of the 3rd action conference of the social movements reassert that we deny any legitimacy to the G8. The trench marked by barbed-wide between us and them can no longer be crossed.
The G8 know that fewer and fewer people believe them: Therefore, they aptly seize on what they can no longer deny anyway: the threatening climate catastrophe, the impoverishment of Africa, world-wide wars, the violent devastation of the social sector.
We know by now the empty phrases by which the G8 will present themselves as saviours of the world. The draft of the concluding document has transpired. The draft summit declaration of Heiligendamm 2007 "Growth and responsibility in the world economy" is full of meaningless summit rhetoric, general phrases and ignorance face to the problems and their roots that have occupied us this week-end.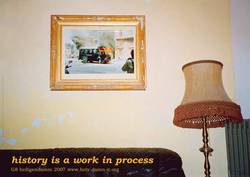 We don't ask the G8 for anything. We come together in order to agree on the other world for which we shall demonstrate at Heiligendamm. For which we stand in with our civil disobedience.
This other world, that much we know already, will be a world without G8, will be the world after the G8. While we by our presence, not to be overlooked and not to be overheard, at the other side of the fence demonstrate that their time is running out, we shall open our dialogue, our dialogues. Dialogues between the various forces of global civil society and the social movements in this country and countless other countries. We shall not reach unity on all questions, it is not even necessary that we do so. Because while their time is running out, ours is just beginning. Our dialogues serve to agree on the next steps, our next steps, the upcoming steps of a future democracy. A democracy to which we offer a first opportunity to emerge at Heiligendamm. And while the G8 seclude from the world, even shut themselves off from it, we open ourselves to it. Therefore, this declaration is a good-bye and an invitation. Bye-bye to the G8: "Go away! You are not welcome!" An invitation to all who say: "Ya basta! It's enough! Another world is possible!" A world of social and ecological justice, of equal rights for all, of peace. Heiligendamm will be a beginning. Our beginning.
Images: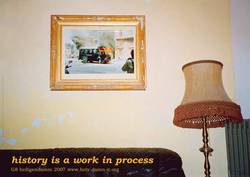 /