2002-12-02
Seattle Police Botch Crowd Control
(12-02) 04:00 PDT Seattle -- In police academy textbooks for years to come, Example A of how to botch the job of crowd control will probably be Seattle 1999.
The chaotic street protests and vandalism seemed to catch city authorities by surprise, leaving them helpless as huge demonstrations spun out of control Tuesday and continued on a smaller scale yesterday.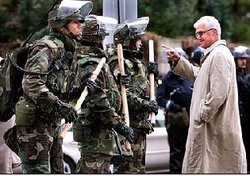 Robert Collier, Chronicle Staff Writer
Police took a much more aggressive stance yesterday, arresting hundreds in a cat-and-mouse game with roving bands of protesters in a 50-block ``no-protest zone'' downtown that civil libertarians said violated the constitutional right of assembly.
Yet police appeared confused, herding protesters back and forth and occasionally spraying pepper gas and tear gas at protesters and passers-by alike.
Despite having prepared for the demonstrations for months -- and despite a crescendo of rumors of possible violence -- the police allowed peaceful demonstrators to delay the start of the World Trade Organization summit Tuesday while small groups of young vandals rampaged through downtown, smashing and looting stores.
City authorities were obviously embarrassed yesterday, and they struggled to explain the mess.
``If we had known what was going to occur, we would have taken a different position in the first place,'' said Assistant Police Chief Ed Joiner. ``Clearly, in hindsight, the approach we used (Tuesday) did not work, and we're going to have to take a different approach.''
About 200 unarmed National Guardsmen joined Washington State Patrol troopers and officers from other jurisdictions in backing up city police, and a curfew imposed after the worst of the rioting was repeated last night.
Much thinner crowds greeted the police crackdown -- totaling only a few thousand protesters, compared with the more than 50,000 who had jammed the area Tuesday. But tear gas continued to flow, and 38 protesters and police were reported injured.
By late yesterday, more than 400 demonstrators had been arrested and taken to a Navy base on the city's outskirts, in addition to the 68 arrested Tuesday. Yesterday's total included 200 demonstrators arrested in a city park just two blocks from the hotel where President Clinton was staying.
As night fell, office workers downtown rushed through tear gas and threaded their way past opposing groups of protesters and of riot police as they headed home.
Many Seattle residents were angry at the destruction and the lack of police response.
``They trashed our city, and the police didn't do anything,'' said Claire Williams, an insurance adjuster. ``I've been reading for weeks and months in the papers about how this was going to happen. So why did they allow it?''
On Tuesday, which was to have been the opening day of the summit, throngs of demonstrators blocked access to the downtown convention center. The opening ceremony was canceled as diplomats from around the world found themselves trapped in their hotels by throngs of people and the wafts of tear gas.
The initial police strategy was to contain the protesters by firing tear gas and plastic pellets and to arrest only a minimal number. But police took no action as dozens of masked anarchists dressed in black roamed through the downtown shopping area, spraying paint, smashing windows with hammers and looting. Most major retail chains, from Nordstrom and Nike to Old Navy and Starbucks, were vandalized.
Yesterday, much of downtown was boarded up and few stores were open. All told, it was the worst urban unrest in the United States since the 1992 riots after the acquittal of police officers in the beating of motorist Rodney King.
Random interviews with police officers on the street indicated that confusion was widespread in their ranks.
``We just didn't expect that things would go out of control like this,'' said one member of the state police riot squad as he stood in a line of troopers making a show of force at a street corner. ``I just wish they would let us use the fire trucks and get them all wet. (The protesters) would get cold and leave pretty fast.''
Even some protest leaders said they were surprised at the police disorganization. Although they condemned the widespread use of tear gas and plastic pellets, many said police were simply out of their league.
``I don't understand what they were trying to do, and I don't think they did either,'' said Kim Marks, a leader of the protests and a veteran of Northwest timber protests in recent years. ``They could have done more to stop us in a less violent fashion.''
Yet the protesters themselves were poorly organized. On Tuesday and again yesterday, most of the crowd was essentially leaderless, a huge, amorphous mass stretching across many blocks. Confusion ran rampant, especially when tear gas caused stampedes of coughing, crying people.
The only disciplined part of the crowd was a separately organized march by the AFL-CIO, which started a mile from the convention center, swung past it -- with many of the more militant unionists joining the activists -- and returned to its starting point.
City authorities and protesters were not the only ones to be dazed and confused. Two local TV stations, KING (NBC, Channel 5) and KOMO (ABC, Channel 4), had announced that they would not cover what KOMO called ``irresponsible or illegal activities of disruptive groups.''
But the law-and-order focus quickly went out the window as the stations -- like all other media outlets -- gave blanket coverage to the looting and anarchy.
[http://www.sfgate.com/cgi-bin/article.cgi?file=/chronicle/archive/1999/12/02/MN88029.DTL]
Source: San Francisco Chronicle