2007-05-30
Analyses, Impressions, Voices: a journey through Germany rebelling against G8 - Hamburg May 28. 2007
Logbook # 1

by Mobile Global Station Against G8

Tuesday May 29th, 2007
Hamburg, Monday May 28th
Today, May 28th, there is a demonstration against the ASEM (Asiam Europe Meeting). European and Asian ministers meet to organise exploitation within big global networks. This means that ministers try to manage actual governance within never-ending global war.

Mobilisations against the G8 summit in Germany have therefore started. Small groups of activists arrive in Germany. Groups are small because they wish not to be stopped by police squads that control streets and sometimes block activists even before initiatives actually start. Police search and bother people: hundreds of cops walk around the meeting point of the demo to intimidate people via showing up their new war costumes. They just look ridiculous…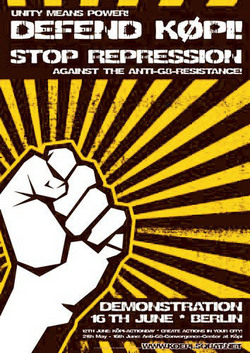 Hamburg. The demo leaves the meeting point. There is a compact block of two thousands people that opens the demo. Two banners say: "Autonomen moving against G8 and ASEM" and "Total freedom". The desire of complete freedom of movement and life, this flux of common desire, is the leading spirit of today's march. The demo crosses St. Pauli old harbour area. It cheers the glorious HafenStrasse, a neighbourhood whose struggles to defend occupied houses are everywhere known. These struggles talk about the dignity of a community that has always been organised against control and capital market.
Right after the opening of the demo, different groups of activists and clowns follow up. There's also a fake-army band that holds a "Fuck" flag and plays drums. We now are 7-8,000. Police surround the demonstration at the front, at the back and at sides. This gets toughly into nerves. Police provoke, tanks arrive with water cannons on top. Police try to enter the demo. But the demo answers back, it tightly sticks together and police do not make it through. Five-language speaking slogans suggest police to get away. Fire crackers in the sky prove that the demo wants to go on. Germans speak Italian. Greeks speak French. American and Russian come following. Italians teach to say: "siamo tutti clandestini" (we all are clandestine).
At the end of the demo, people manage to speak out loud. Police get nervous and start surrounding demonstrators. Cops try to block 200 people that were accused of staying in the square too long. Police provoke and try to intimidate. In spite of this resistance is organised and it attacks tanks that rush in the streets to pick up demonstrators and jail them in the dozens of small dispersed detention areas of Hamburg. Resistance chills the pressure on the 200 that manage to leave the square. Amidst chaos, some comrades block a car of delegates. A bodyguard freaks out and jumps out of the car with the gun in his hands.
People reach RoteFlora. When police cars' sirens are heard, people organise barricades because there's the feeling that cops will try to get in the social centre to set up a mess… Though resistance is such that police finally leave. Water cannons shoot, clashes occur… Demonstrators throw eggs filled with paint towards police. When they leave, everyone goes inside RoteFlora to rest, to find information about the arrests. People cheer up, drink and eat all together.
Police left, streets are freed, we can them move on to the following step.
We all say goodbye. The next appointment is in Rostock in few days time.
There the rebel swarm will again stick together.
International Brigades, Italian Section
Images: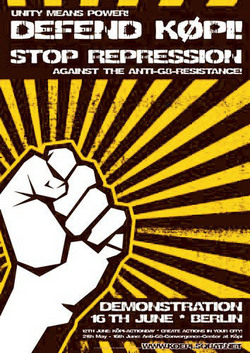 /