2010-06-26
Fortress Toronto: Loss of civil liberties part of an absurd price
Extreme security measures taken by the Ontario government and police provide more evidence that we should say no to future summits
By Craig McInnes
The security wall around the heart of fortress Toronto is more than six kilometres long.
Much of the three-metre tall barrier is anchored with concrete blocks and topped with wire fencing.
Closer to where the G20 leaders will be meeting, expanded metal sheeting has been used, which according to news reports is stronger and has smaller holes than chain-link fencing to make it hard to climb.
More than 10,000 police officers are involved in guarding that fence, to ensure that protesters trying to send a message to the world leaders gathered in Toronto can't get through.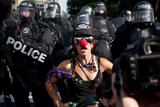 All of this is part of the $1 billion in security costs for the G8 and G20 summits held in Huntsville and Toronto.
But the folks who persuaded politicians that they need that much money for personnel and hardware to provide security for three days of meetings wanted even more and they got it.
The Ontario government quietly posted a regulation earlier this month that gives police the right to arrest anyone who comes within five metres of the fence and who refuses to provide identification or submit to a search.
The new power only came to public attention when a man was arrested under the regulation, which was passed by the Ontario cabinet on June 2 and came into effect June 21.
It expires on June 28.
There is no requirement that the person arrested appear to be threatening, that they be attempting to get through the fence or in any way be doing anything or attempting to do anything illegal.
All you have to do is assert your legal right — spelled out clearly in the Toronto police's own brochure for newcomers to the city — not to identify yourself to a police officer.
No big deal, said Toronto Police Chief Bill Blair.
The regulation is pursuant to a law that has been on the books for years that has been used for protecting public facilities, such as train stations and police stations.
No big deal. Just a small step from the rules that cover what is essentially private property to giving police the same powers on a public street.
It's the same kind of small step that we seemed to have taken to get us to the point where we can think it makes sense to lock down the centre of Canada's largest city, blocking off not just streets but private businesses and public parks.
At the last G7 meeting in Toronto, people got upset when the freeway was closed briefly.
Now, we put up with the creation of a ghost town, empty streets turned over to the politicians and protesters, each gathered for their own form of theatre.
It's the kind of small step we have taken to get to the point where even if 10,000 protesters show up, it makes sense to spend $100,000 to look after each and every one of them.
The same kind of small step that led from the rational idea of 20 influential national leaders meeting to discuss common concerns, to the insane waste of money now underway in Toronto. We could, of course, blame all this on the protesters.
If the they hadn't shown up for what has become known as the Battle in Seattle in 1999, if they didn't tolerate in their midst the self-styled anarchists who smash and burn for the fun of it, if they would just stay home we could have these meetings without turning Toronto into an armed camp.
But the right to lawful protest is one of the foundations of democracy and we can't afford to give it up any more than we can afford to have any of our other civil liberties taken away, one small step at a time.
cmcinnes@vancouversun.com
Read more: http://www.vancouversun.com/opinion/Fortress+Toronto+Loss+civil+liberties+part+absurd+price/3204608/story.html#ixzz0rxeGrQ6P