2010-03-09
Convictions of abuse during Genoa G8 protests upheld
At 2001's G8 Summit in Genoa police confronted anti-globalization demonstrators
An Italian court has confirmed the convictions of 15 police officers, prison guards and doctors who were found guilty of the ill-treatment of detainees in the Bolzaneto detention facility in Genoa in 2001 during protests against the G8 summit. The court also overturned the initial acquittals of another 29 people who have now been convicted of ill-treatment.
The Genoa court upheld the July 2008 convictions when the 15 were sentenced to between five months and five years imprisonment for their role in the ill-treatment of detainees.
"Although the motives of the judgment are not yet known, the fact that the appeal judge broadly upheld the outcome of the previous trial confirms that grave human rights violations were committed nearly a decade ago," said Halya Gowan, director of Amnesty International's Europe and Central Asia Programme.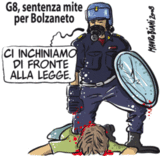 "It is an important step towards ensuring accountability for some of the grave human rights violations occurred in Genoa in 2001 and establishes some of the individual criminal responsibilities involved."
Over 200 detainees were held at the Bolzaneto temporary detention centre during the 2001 G8 Summit in Genoa during which police confronted anti-globalization demonstrators.
The detainees in Bolzaneto were made to stand for hours in painful positions, beaten, threatened, including with rape, subjected to body searches carried out in a deliberately degrading manner and other humiliations.
However, the lack of the crime of torture in the Italian criminal code has prevented judges from punishing perpetrators in a manner proportionate to the gravity of the conduct attributed to them.
The lesser crimes are by now subject to statute of limitations, which means that no one will serve any time in prison.
Furthermore, systemic failures which contributed to the violations in Bolzaneto have not been addressed by the Italian authorities. Amnesty International said it is concerned that the Italian authorities have failed in the past nine years to take any measure to prevent police brutality of the scale occurred in Genoa in 2001 from happening again.
"Bolzaneto could happen again unless the authorities send a clear message that human rights violations by law enforcement officials will not be tolerated," Halya Gowan said.
Amnesty International reiterated its call on the authorities to introduce a crime of torture consistent with the requirements of the Convention against Torture, to establish an independent mechanism for police accountability and to implement all relevant recommendations of international organizations.