2009-12-17
Gregoire: Copenhagen cops learn from WTO
Washington Gov. Chris Gregoire is working the Copenhagen climate summit to market Washington's "green" economy, but is finding Danish police have learned lessons from Seattle's men and women in blue.
"To the person, they have seen the film of WTO," Gregoire said, referring to demonstrations and riots at the World Trade Organization ministers meeting in Seattle a decade ago.
The Danes share Seattle's appreciation of the right to dissent, Gregoire added in a phonecall with reporters. But they move quickly to thwart potentially violent actions -- a lesson learned from the "Battle of Seattle."
"They also saw when you allow it to go too far, the consequences are severe," Gregoire added. "Nothing has gotten out of control."
Protesters did try to disrupt one meeting attended by Gregoire, but she said the disruption was quickly suppressed.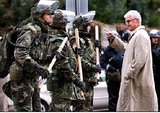 Gregoire comes from a state where more than 400 companies engaged in "Green" energy, building retrofits, and other parts of the emerging economy.
"What we have are not only large companies, but also small and even startups from Washington," Gregoire said.
Citing the first flight of Boeing's fuel-saving 787, the governor boasted that Washington is leading the world in "green airplane" and "green jet fuel" development.
Gregoire is a leader in the Western Climate Initiative, a bipartisan effort of governors in the West - California's GOP Gov. Arnold Schwarzenegger is in Copenhagen - and four Canadian premiers.
Significantly, one non-participant is the premier of Alberta, whose province is home to the huge, polluting Alberta oil sands development.
Canada's federal government is studying a proposal that would let industries in the oil sands project increase emission of greenhouse gases by a whopping165 percent during the next decade. It would only require that the emission increase be trimmed by 10 percent.
"They really didn't answer questions on what to do about that," Gregoire said of her counterparts from the Great White North.
She did note, however, that climate conscious premiers are taking a different direction than Canada's national government.
Premiers of British Columbia, Ontario and Quebec - whose provinces hold a majority of Canada's citizens - have been sharply critical of Ottawa's dawdling pace.
The TV coverage of Copenhagen has focused on street protests.
"We are doing our business; we're working, we're not letting any of that disrupt us," said the governor. "I am disappointed the impression back home is just about the protests because those of us who are here are not focused on that at all."