2009-07-10
Mass Protests Overshadow Last Day of G8 Summit
Thousands of protesters gathered near the central Italian town of L'Aquila on Friday, as the Group of Eight summit came to a close.
A crowd of anti-G8 protesters, including local residents and various international groups, has gathered at a railway station in the quake-hit town's suburb of Paganica.
"We do not want the G8 leaders to search for the ways to overcome the crisis that they started. We want the demands of the affected people to be considered in the restoration of L'Aquila," Paolo Ferrero of the Communist Refoundation Party said.
Participants are protesting against the stalling of restoration work in L'Aquila, where almost 300 people died, 1,500 were injured and about 50,000 left homeless in April's earthquake.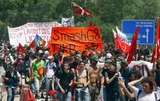 The demonstrations will later head to the Villa Comunale park in the center of L'Aquila. The march, sanctioned by Italian police, is expected to end at around 5:00 p.m. (15:00 GMT).
Organizers expect between 6,000 and 10,000 people to take part in the demonstrations.
A spokesman for Epicentro Solidale, the L'Aquila-based group coordinating the protests, urged participants to keep the rally peaceful, and said that trouble-makers will be excluded.
"The success of our protest depends on the calm of its participants - there should be neither clashes nor tensions," Stefano Frezza told reporters.
In recent days, several people have been detained in L'Aquila after police caught them carrying clubs, metal sticks and gas masks.
Earlier this week, a group of young people set car tires alight in an attempt to block traffic in downtown Rome.
Protestors attempted to block the Rome-L'Aquila highway to "free the residents of L'Aquila from the G8 invasion."
In Turin and Bologna, protesters took part in a march to demand the release of 21 people arrested in May in Turin during a meeting of rectors from the largest universities of G8 nations.
Some 15,000 police and troops have been brought in to ensure security during the summit. Police have blocked all roads leading to the main venue, a police academy located on the outskirts of the city.
Italy has imposed a temporary suspension on Schengen visa-free travel to prevent large numbers of protesters gathering from other European countries.