2009-07-07
Italy, L'Aquila: the security measures for the G8
L'Aquila, Italy – Airplanes, helicopters, missiles, UAV, ground vehicles and other devices to protect the leaders
(WAPA) – L'Aquila has been armoured. The Italian armed forces and civil defense have prepared a huge security organization to protect the leaders what will meet in the city from July 8 to 10. Airplanes, helicopters, UAV, missiles, ground vehicles, dog teams, mounted sections, block posts and several further measures to avoid any possible problem. The Italian ministry of Defense called this operation "Giotto 2009".
Airspace protection will be ensured by F-16, Eurofighter Typhoon fighters, HH-3F helicopters and MB-339CD aircraft in SMI (Slow Mover Interceptor) configuration; it will be also used a UAV (Unmanned Air Vehicle) Predator that will guarantee real-time monitoring of the area.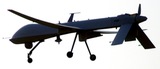 A Hawk missile battery from the 5th anti-aircraft artillery regiment of Rimini will be deployed. Furthermore a NATO Awacs radar aircraft will be used.
For transport operations: 3 multi-role NH-90 helicopters and 2 CH-47 medium-lift helicopters from the army; 5 multi-role EH-101 helicopters from the navy; and 5 Alenia C-27J aircraft from the air force to carry delegations and journalists.
Concerning security on the ground, the street n. 80 has been closed and considered "Red zone", such as the hills surrounding the facilities where the meeting will be held. Block posts have been organized in all the zone.
Finally a sanitary task force will guarantee medical assistance to delegations and to all the participants, with 73 between specialized doctors in various disciplines plus military paramedics from the army, the navy and the air force, a polyclinic of Carabinieri and six ambulances. (Avionews)