2009-07-07
Italy launches security blitz for G8 summit
Rome - Sharpshooters on Monday took up positions in a "red zone" surrounding this week's Group of Eight summit venue in central Italy as part of an imposing security apparatus.
Authorities hope anti-globalisation protesters will stay away from the summit venue in L'Aquila - a devastated city still mourning the 299 victims of an April 6 earthquake - and have beefed up security in Rome as well.
From Monday, no one without accreditation to the summit will be allowed within a three-kilometre radius of the venue, a military academy that sprawls over 45 hectares, about the same area as the Vatican.
The "red zone" is under round-the-clock surveillance by sharpshooters.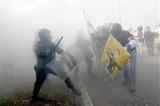 Besides fighter jets and helicopters, drones will help patrol the area during the three-day summit starting on Wednesday, according to Italian press reports.
Some 15 000 soldiers and police have been deployed as authorities hope to avert a repeat of the violent scenes that marred the 2001 G8 summit, also hosted by Prime Minister Silvio Berlusconi in northwestern Genoa.
Clashes between security forces and anti-globalisation protesters wreaked havoc, and one youth died in the violence.
The heads of state and government from the G8 - Britain, Canada, France, Germany, Italy, Japan, Russia and the United States - will be joined this year by their counterparts from the Group of Five emerging nations, Brazil, China, India, Mexico and South Africa.
Other countries invited include Algeria, Angola, Australia, Denmark, Egypt, Indonesia, Nigeria, Senegal, South Korea, Spain, The Netherlands and Turkey.
A number of international groupings will also be represented.
The thousands of delegates will be covered by a 3 000-strong press contingent at the Guardia di Finanzia training school in Coppito, a suburb of L'Aquila.
Posing a separate security concern are aftershocks that continue in the L'Aquila region three months after the quake that claimed 299 lives and left 70 000 people homeless.
Authorities have an emergency evacuation plan in place if a significant new tremor should occur, the civil protection agency said on Monday, adding that helicopters and small planes are standing by at an airstrip near the summit venue.
On the road from Rome to L'Aquila 120km to the north-east, police could be seen on Monday at all bridges and viaducts.
In Rome several sensitive locations including Berlusconi's official residence in the city centre are under heavy guard.
Protests by various groups are expected on Tuesday including a sit-in near the US embassy.
Activists have called on protesters to block official motorcades in the streets of Rome.
In L'Aquila itself, earthquake victims upset by the slow pace of reconstruction plan a "grand silent march" alongside anti-globalisation activists on Friday.
Most of their city is designated another kind of "red zone" - still uninhabitable for safety reasons. - Sapa-AFP