2009-07-05
Clashes at demonstration over US base in Italy
There have been ugly scenes in Italy as demonstrators denouncing the planned expansion of a US military base clashed with riot police.
Violence erupted as security forces moved to prevent protesters from crossing a bridge and getting nearer to the controversial site.
Youths lit firecrackers and threw stones and bottles at police who replied with tear gas.
The extension plan in the northeastern city of Vicenza has angered environmental campaigners, far left groups and some locals.
The disturbances come just days before Italy hosts the G8 summit.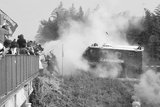 One man claimed police set out to prevent the protest, despite agreeing to stay inside the base and let demonstrators express themselves.
"That is not what happened today," he said.
Another argued: "Here in Vicenza we have held peaceful demonstrations for years. Nothing ever happened."
And most of those protesting against the Dal Molin project, that would make the US base one of the biggest in Europe, did do so peacefully.
Opponents contend the base is bad for the environment, increases the risk of terrorist attacks and threatens Vicenza's historic centre.