2009-07-05
Clashes at Italian anti-US demonstration
Protesters have pelted riot police with rocks during an American Independence Day demonstration against the $US500 million ($A632.27 million) enlargement of a US military base in Italy.
An AFP photographer says youths among hundreds leading a march on the base on Saturday hurled bottles at police who responded with tear gas on the approach to the construction site at a former airport in northern Vicenza.
The work at the base - which has a current troop capacity of 2,750 - will enable 1,800 soldiers presently based in Germany to be stationed there.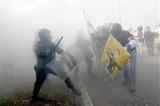 Demonstrators who have regularly cut their way through barbed wire guarding the site shouted "No arms here" and "We won't be a rear base for the killing of Afghan kids".
Local authorities have backed the extension, with around 1,200 jobs created, while successive governments led by centre-left Romano Prodi and current Prime Minister Silvio Berlusconi have each greenlighted the work.
A delegation from the organisers - a coalition of Communists, Greens and far-left groups - will travel to central L'Aquila on Sunday to protest against the scene of next week's G8 summit of world leaders including US President Barack Obama.