2009-06-28
Border bother for visitors to Italy
Tough luck for tourists as Italy tightens its borders. For the next two weeks, Italy is suspending the Schengen Agreement, which abolished border controls within mainland Europe. It is doing this to step up security ahead of the G8 summit in L'Aquila on July 15. It means anyone entering or leaving Italy will now need to show a passport.
At Rome's Fiumicino airport, border police said that even in the first hours of the measure being brought in there were several problems, with people forgetting to bring passports or even bringing false ones.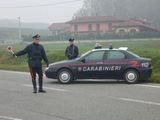 With the holiday season in full flow, the passport checks will affect tens of thousands of tourists.
Along the northern land-border with Slovenia, motorists queued for hours.
One Italian driver trying to leave the country said he thought the G8 summit must have been moved to the Slovenian capital Ljubljana. When told it is for the summit in L'Aquila, he suggested that if officials wanted to stop trouble makers coming into Italy they should not be checking people who are trying to get out.
Border police unions are not happy with the decision, claiming there are not enough officers to check passports without causing massive delays.