2009-06-11
Six arrested in suspected plot to attack G8
ROME (AFP) — Six people have been arrested on suspicion of planning an attack on the Group of Eight summit next month in Italy, police said Thursday.
The six were arrested Wednesday and Thursday, one month ahead of the July 8-10 summit of leading industrialised nations, anti-terrorist police chief Lamberto Giannini told a news conference.
The probe began two years ago when the summit was set to be held at the Sardinian island of La Maddalena, he said.
Citing wiretaps, Giannini said the gang did not "strictly speaking" have an attack plan but "were discussing how they could get close to strategic points at the summit."
They had maps of the summit's closed-circuit surveillance system and "were trying to figure out how to bypass the security systems," Giannini said.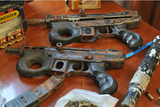 Prime Minister Silvio Berlusconi made the surprise decision to move the G8 summit to the central Italian city of L'Aquila three weeks after the April 6 earthquake that claimed 299 lives to "show solidarity" with the victims.
Berlusconi argued that millions of euros could be saved by moving the venue to a modest site on the outskirts of L'Aquila, and that anti-globalisation activists would think twice before staging protests in a disaster zone.
Giannini did not confirm Italian press reports that the gang had shifted their target to the new venue.
In Rome and northwestern Genoa, five people were arrested and a sixth placed under house arrest, accused of criminal association for purposes of terrorism and arms possession, Giannini said.
They "tried to reconstitute a formation similar to the Red Brigades, inspired by Marxism-Leninism, to commit armed action," he said, referring to the militant group active in Italy during the 1970s.
Among those arrested was Luigi Fallico, 57, a former member of the Red Brigades, Giannini said, adding that another, Gianfranco Zoia, had been arrested in the 1990s for membership of an armed gang.
The probe "was very difficult because with their experience of armed struggle this network used very careful methods to avoid detection," he said.
The Red Brigades, accused of the 1978 murder of Italian former prime minister Aldo Moro, killed some 415 people during the so-called "Years of Lead" in Italy when they carried out some 15,000 attacks.
Their stated aim was to get Italy to withdraw from NATO.
A "new" Red Brigades linked to a group of communist militants killed two government labour rights consultants in 1999 and 2002.
About 15 people were arrested in Milan in February 2007 on suspicion of belonging to a far-left group associated with the Red Brigades.