2009-06-02
Roundup: G8 justice, interior ministers define measures to combat global crime
ROME, May 31, 2009 (Xinhua via COMTEX) -- by Silvia Marchetti Justice and interior ministers of the Group of Eight (G8) on Saturday agreed on a series of measures to beef up the global fight against terrorism, organized crime and illegal immigration while promoting and respecting human rights.
According to the final communique of the two-day ministerial meeting, an important tool in fighting criminal groups is the confiscation of their financial and other material assets based on the Italian anti-Mafia model.
Hosted by Italian Justice Minister Angelino Alfano and Interior Minister Roberto Maroni, the meeting kicked off in Rome on Friday amid tight security measures due to activists' protests.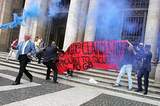 Participants included international security officials from the European Union, Interpol and the United Nations Office on Drugs and Crime (UNODC).
Alfano told reporters Saturday he was "very satisfied with the outcomes of the meeting," specifically regarding Italy's contribution in identifying important safety measures.
The ministers agreed that "all measures against terrorism must respect human rights, asylum and international laws." Terrorism represents one of the greatest threats to global security and cooperation among countries and international bodies are essential to increased efficiency in counter-terrorism strategies, the communique said.
According to the communique, prevention is central in the fight against terrorism. Countries are today inter-dependant and must share sensible data on terrorists and on their channels of communication, specifically the Internet, it said.
The ministers stressed strengthening international coordination "by protecting critical infrastructure for industries and cities" and preventing terrorists recruitment.
"Special attention must be given to possible connections between organized crime and international terrorism," they urged.
Organized transnational crime, such as drug and human trafficking, illicit arms trade and money laundering is a threat to global security, to the rule-of-law state and to economic stability, they said.
Special focus was given to cybercrime. The increasing number of identity thefts is "threatening financial security and intellectual property rights." It is thus important to increase coordination between Internet service providers and police authorities, including monitoring of social network sites. The ministers proposed to create a "G8 blacklist" to target child pornography on the Internet.
The ministers also suggest the creation of a working group made up of experts who, in collaboration with United Nations' drugs and crime agency, UNODC and Interpol, could develop innovative measures to combat the phenomenon.
Italian Interior Minister Maroni said Italy will soon launch a global center against cybercrime. The project will be shared with other G8 countries.
The ministers agreed as well on the importance of confiscating criminal groups' financial and material assets.
Italian Justice Minister Alfano said he was "proud" that the final document referred to the "Italian model" in the fight against organized crime. The ministers said they will cooperate in confiscating Mafia's foreign-based assets, however, not all countries recognize certain crimes related to Mafia operations.
According to recent UN studies, the current global economic downturn provides criminal groups with opportunities for money laundry: investing in legal business operations money obtained through drug dealing and arms smuggling.
Friday's talks centered on piracy, which has heavily struck Somalia and the Gulf of Aden. Alfano said the ministers agreed that the best way of defeating piracy in international waters is through cooperation and deciding which tribunals should try pirates.
Joint efforts must be made to "deal with a phenomenon (in Somalia) that is not only creating insecurity in merchant shipping but causing major economic damage," Alfano said.
Some G8 countries back the idea of setting up special courts to deal with the crime while others believe pirates should be brought to trial in international tribunals. The final document stressed the need of identifying an international legal tool-box to arrest pirates and freeze their profits.
Last week, Italian Foreign Minister Franco Frattini said that in June Italy will host a conference on stabilizing Somalia in a bid to combat piracy off the Horn of Africa.
The ministers at the meeting also expressed concern that the economic crisis will trigger an increase in migration from poorer nations to richer ones, allowing human traffickers to exploit the situation.
The Italian government, which currently holds the G8 presidency, has made the fight against illegal immigration as its top priorities. Italy has introduced some controversial measures such as the deportation of migrants intercepted in international waters.
Maroni said there was consensus that both the fighting of illegal immigration and stepping up measures to improve the integration of legal migrants were priorities.
The Italian ministers also urged greater coordination among European countries to tackle the problem.
"Italy is a frontier-land" but immigration is a European problem, said Alfano.
The final declaration contained a list of 25 projects for operational cooperation in the field of security. Ten were put forward by the Italian government.
The projects will be submitted for approval by G8 leaders, who will gather on July 8-10 in Italy's quake-stricken city of L'Aquila.