2009-05-27
German Delegation Tours G8 Summit Sites
The German Government's representatives toured the Guardia di Finanza Non-Commissioned Officers' College in Coppito, on the outskirts of L'Aquila, the new G8 Summit venue, today. In line with what is by now the tried and tested programme for the foreign delegations' preparatory visits, the 10 German delegates, headed by Karl Wokalek, from the Foreign Ministry Protocol Department, were welcomed by the director of the Civil Protection Department's International Relations Office, Agostino Miozzo.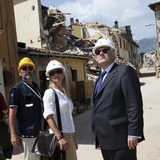 After the traditional briefing illustrating the summit sites and the broad organisational aspects, the G8 mission staff accompanied the German delegates on a tour of the delegation chief's and delegates' quarters and the premises where the bilateral meetings, working sessions and final press conference are to be held. They then moved on to inspect the sports area next to the Finance Police College, where the facilities set aside for the accredited press are to be installed. Last but not least, more detailed talks were then held with the various mission staff chiefs on the various aspects of logistics, security, the media and transport.
The delegation then made an early-afternoon tour of L'Aquila city centre and Onna, the village that has become the symbol of the Abruzzo earthquake, in the reconstruction of which the Federal Government is directly involved. The German delegates met the group of experts from the Civil Protection Department's German counterpart (the THW), who have for several days been busy clearing rubble and repairing the infrastructure, in the small outlying district of L'Aquila.
The foreign delegations' visits will be resumed on Friday, 29 May, when the Canadian delegates are expected.