2008-07-06
Small protests held as G-8 leaders arrive on northern Japanese island of Hokkaido
SAPPORO, Japan: Hundreds of protesters rallied under heavy police security Sunday in Japan as leaders from the top industrialized nations arrived for their annual summit.A morning protest ended peacefully, but one person was detailed during another rally held later in the day.The rallies followed a demonstration by about 2,500 on Saturday that lead to a brief clash with police in which four people — including a television cameraman — were detained.
The protesters are demanding the Group of Eight industrialized nations be dissolved and urgent measures be taken to solve climate change and world hunger.
"Down with imperialism," said one large red banner carried at the front of the morning march.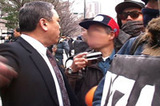 A member of a rightist group was detained as he rushed toward 200 leftists marching in the afternoon rally, which otherwise ended without incident.
Japanese police have been out in force to assure there are no attacks on the G-8 summit, which starts in Toyako, about 60 miles (100 kilometers) south of Sapporo, on Monday.
U.S. President George W. Bush arrived in Toyako as the first march was being held.
Protesters have not been able to get anywhere near the summit venue, but have scheduled daily rallies in Sapporo, the largest city on the northern Japan island of Hokkaido. They are often outnumbered by riot police deployed to control them.
Japan has mobilized a staggering 20,000 police officers — primarily in and around the summit site but also in major cities including Tokyo — to avert any terrorist attacks. Coast guard vessels, military helicopters and fighter jets have also been deployed.
Last year, tens of thousands of anti-globalization protesters demonstrated when the summit was held in Germany and some threw Molotov cocktails at police, who used water cannons and horses to drive them back.
The G-8 leaders represent the United States, Japan, Russia, France, Britain, Canada, Italy and Germany. They are being joined by African leaders and the leaders of China, India and other rapidly growing economies, making this year's summit the biggest ever.