2008-07-08
Manila: Autonomous Activists Denounced Police Violence In Japan
A network of Anti-G8 protesters from various autonomous groups and collectives held silent protest infront Japanese Embassy in Manila, Tuesday noon, by unfurling banners denouncing police violence and corporate free trade at the G8 Summit in Hokkaido
By Jong Pairez
8 July 2008 UPDATE: Silent Protest In Manila Bashed G8, Autonomous Activists Denounced Police Violence In Japan
MANILA, Philippines-- A network of Anti-G8 protesters from various autonomous groups and collectives held silent protest infront Japanese Embassy in Manila, Tuesday noon, by unfurling banners denouncing police violence and corporate free trade at the G8 Summit in Hokkaido.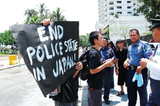 The G8 protesters attempted also to hand-out their letter of protest to Japanese Ambassador in the Philippines Makoto Katsura, but the combined security guards and police denied them the effort to do so. Telling the protesters the ploy to impose bureaucratic processes in handing out a document.
Despite the repressive measures the Authorities had done, the protesters continued their non-violent form of protest until everyone dispersed peacefully.
Meanwhile, in Japan as the G8 Summit continues, horrible reports of police violence has been committed already since the week before G8 formally started in July 8, namely, injuring a peaceful sound truck driver and arresting a Reuters journalist. Not to mention the illegal detention of more or less 40 Korean peasants and other Foreigners without any legal charges. "Reports of excessive force imposed against dissent by police authorities is very unusual to a country who practices compassion according to Buddhist teachings", says Jean Makisig of Dream Bureau- a network of anti-authoritarian activists and ice cream enthusiasts.
According also to Aklas Laban Sa G8 (Resistance Against G8)- the official name of the said network, "This portrayal of terrorism by Japanese authorities only further adds to the already elitist and authoritarian image of the G8, worst than the Taliban and the Al-Qaeda."
The 34th G8 (Group of Eight countries) Summit in Hokkaido, Japan hides on top of a mountain lake in Toyako, which is far from the people and behind the gates that cost billions of dollars. "This is how the group of eight rich countries in the world uphold their global dominance over poor countries", explained Jean Makisig, "Controlling everything from behind a secluded garrison", Makisig adds.
Aklas Laban Sa G8 network are Pinagkaisahan Collective, United for Peace Collective, Local Anarchist Network, Manila Indymedia, Collective of Anarchists in Bulacan, Anarchist Initiative for Direct Democracy and NonCollective. ###
Story and Photos by Jong Pairez
Manila Indymedia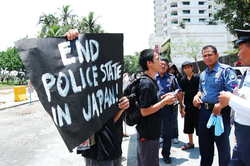 /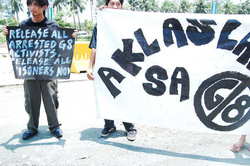 /