2009-05-20
Anti-Globalization Clashes Continue in Turin
By Sabina Castelfranco
At least 19 police officers were injured in clashes with anti-globalization protesters in Turin. Thousands of students protested against the economic crisis on the sidelines of a G8 meeting of international university clergymen.
Demonstrators hurled rocks and fire extinguishers at police in Turin while over 40 university clergymen from G8 nations and 19 from industrialized and developing nations were holding a summit at the Castle of Valentino.
Police in anti-riot gear responded with baton charges and volleys of tear gas. Clashes were violent but lasted only a half hour. Thousands of demonstrators, mainly students, took to the streets of Turin to protest the summit.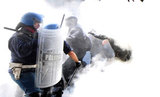 Foreign students joined Italians and came in from Greece, The Netherlands and Britain. Some tried to attack a number of banks. At least 19 people police officers were injured and some demonstrators when the clashes broke out. A couple of Italian demonstrators were taken into custody.
It was the second day of protests in central Turin. More than 1,000 police officers were deployed. This Italian student explained why the protests were taking place.
He said, we are denouncing the illegitimacy of this summit and also the decisions that are being taken by those participating. We think that training over the years has increasingly become a market and global decision-making has been exploiting the world of knowledge.
Another student said she had come to Turin because she is unhappy with the way the universities are being run.
She said: "This is a demonstration to call for a different type of university, to call on those who are responsible for the economic crisis to take on their responsibilities and not unload them on the weaker subjects of society, like students, those without full-time employment and families."
The Turin clashes have raised concerns about security in view of the G8 summit of world leaders to be hosted July 8-10 by Italy. Initially the chosen summit venue was an island off Sardinia but since the earthquake struck in central Italy on April 6, the venue has been changed to l'Aquila with the aim of attracting funds to the area.