2009-05-19
Italian Police Clash With Protesters At International Econ Meeting
TURIN (AFP)--Italian police fired tear gas Tuesday to break up thousands of students protesting against the economic crisis on the sidelines of an international meeting of university leaders.
The students tried to break through a security cordon around the Valentino Castle in Turin where 40 university rectors from 19 countries were meeting, an AFP photographer said.
The demonstrators hurled rocks and fire extinguishers at police, who responded with baton charges and volleys of tear gas. The students tried to attack several nearby banks.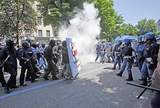 The university chiefs are in Turin to discuss the impact of the world economic crisis and durable development. The meeting was organized by the Group of Eight leading nations which is to hold a summit in
ItalyJuly 8-10.