2009-04-24
Italy set to move G8 venue
Silvio Berlusconi, Italy's prime minister with a flair for surprise, on Thursday threw preparations for the Group of Eight summit in July into a spin by announcing he wanted to move the venue from a small island off Sardinia to the medieval town of L'Aquila, which was shattered by an earthquake this month.
"What seat would be more appropriate than a land wounded by the earthquake?" the billionaire media tycoon told a news conference in L'Aquila, where his cabinet had just held its weekly meeting, approving €8bn ($10.5bn) in reconstruction aid over three years.
Italy's G8 partners – in reality about 20 heads of state and international organisations – said the proposed change of plan came completely out of the blue, although they were aware that the logistics of hosting what officials compared to a mini-Olympics on the island of La Maddalena were becoming extremely problematic.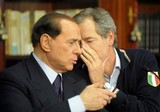 A US official, who asked not to be named, said it looked likely that the heads of state would hold at least one of their meetings during the three-day summit in July in L'Aquila.
He suggested it was possible that Barack Obama, US president, might base himself in Rome and travel from there to the town in the central Abruzzo region, some 100 km away.
A spokeswoman for Gordon Brown, UK prime minister, said it was Italy's decision and the UK would be amenable.
However some diplomats expressed scepticism, asking how the Italian government could secure a large area – where some thousands of people are now living in tents – from the likely anti-global protesters who besieged central London for the G20 summit this month.
Mr Berlusconi addressed that issue, saying: "The no-global will not have the heart to wound a city already hit by the quake."
The April 6 quake, the worst in Italy for nearly 30 years, killed 296 people and has left tens of thousands homeless. The hill-top town of L'Aquila was severely damaged and its historic centre has been declared unfit for habitation. Several surrounding villages were also badly hit, and even modern buildings, including the main hospital.
The original decision to host the summit in La Maddalena was taken by the previous centre-left government, mostly for security reasons, recalling the 2001 Genoa summit in which battles with security forces resulted in the death of one demonstrator. The choice was not welcomed by the Berlusconi administration, which was building facilities from scratch and planning to host most of the heads of state on Europe's biggest cruise ship docked at an adjacent island. Over 30,000 people – including security forces and journalists – are expected.
The cabinet approved Mr Berlusconi's proposal on the grounds that it would shift attention and resources to the quake-hit area. A US advance team is expected to arrive next month to consider the new venue, although diplomats on Thursday were left with few clues as to what building could possibly be suitable.
Some Italian officials also dissented. Altero Matteoli, infrastructure minister, said before the cabinet meeting that the idea was "impossible". Also taken by surprise was Ignazio La Russa, defence minister, who said before the announcement he did not believe it was true.
Mr Berlusconi's popularity ratings, already high before the quake, have risen further following his repeated visits to the area and promises of immediate and lasting aid. Numerous commentators have pointed out that survivors from quakes decades ago are still living in barrack-like "temporary" accommodation while reconstruction money was siphoned off by corrupt officials and the mafia.