2009-04-02
Police teargas hundreds of anti-NATO protestors
STRASBOURG, France (AFP) — Police clashed with hundreds of protestors on the eve of a NATO summit in Strasbourg Thursday, firing tear gas at the crowd to stop them entering the city centre, an AFP correspondent said.
Masked protestors smashed a dozen bus shelters, set fire to trash bins and built a street barricade in a south suburb of Strasbourg, after marching from a "peace camp" set up by activists on the outskirts of the French city.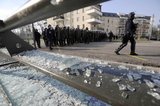 Police said 600 people took part, but organisers put the figure at 2,000.
A protest group called "Anti-Repression" claimed on its website that police made "many arrests," saying the marchers came "face to face with a colossal deployment of heavily-armed police, with more than 50 vehicles."
Security forces fired tear gas at the rally, forcing part of the crowd back towards their camp.
Strasbourg and neighbours Kehl and Baden Baden in Germany are bracing for turbulence as 25,000 police ready to face huge protests during the two-day NATO summit which kicks off Friday.
US President Barack Obama will be joining 27 leaders for the gathering marking the alliance's 60th anniversary.
Between 30,000 and 60,000 protesters -- from radical leftists and anarchists to peaceniks -- are converging on Strasbourg with the stated aim of disrupting the event.