2009-03-01
What is the G20?
What is the G8?
The Group of Eight (G8, and formerly the (G6) or Group of Six) is a forum for governments of eight nations of the northern hemisphere: Canada, France, Germany, Italy, Japan, Russia, the United Kingdom, and the United States; in addition, the EU is represented within the G8, The G8 can refer to the member states or to the annual summit meeting of the G8 heads of government. G8 ministers also meet throughout the year, such as the G7/8 finance ministers (who meet four times a year), G8 foreign ministers or G8 environment ministers.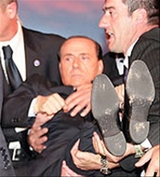 Each calendar year, the responsibility of hosting the G8 rotates through the member states in the following order: France, United States, United Kingdom, Russia, Germany, Japan, Italy and Canada. The holder of the presidency sets the agenda, hosts the summit for that year and determines which ministerial meetings will take place. Lately, both France and the United Kingdom have expressed a desire to expand the group and include five developing countries, referred to as the Outreach Five (O5) or the Plus Five: Brazil, China, India, Mexico and South Africa. These countries have participated as guests in previous meetings, which are sometimes called G8+5. Recently, France, Germany and Italy are lobbying to include Egypt.
What is G-20?
The G-20 (more formally, the Group of Twenty Finance Ministers and Central Bank Governors) is a group of finance ministers and central bank governors from 20 economies: 19 of the world's 25 largest national economies, plus the European Union (EU). It has also met once at heads of government level, in November 2008. Collectively, the G-20 economies comprise 90% of global gross national product, 80% of world trade (including EU intra-trade) and two-thirds of the world population.
The G-20 is a forum for cooperation and consultation on matters pertaining to the international financial system. It operates without a permanent secretariat or staff. The chair rotates annually among the members and is selected from a different regional grouping of countries.
Members of G-20
In 2008, there are 20 members of the G-20. These include the finance ministers and central bank governors of 19 countries: Argentina, Australia, Brazil, Canada, China, France, Germany, India, Indonesia, Italy, Japan, Mexico, Russia, Saudi Arabia, South Africa, South Korea, Turkey, United Kingdom, United States. The 20th member is the European Union, which is represented by the rotating Council presidency and the European Central Bank.
In addition to these 20 members, the following forums and institutions, as represented by their respective chief executive officers, participate in meetings of the G-20: International Monetary Fund, World Bank, International Monetary and Financial Committee, Development Committee of the IMF and World Bank.