2009-02-13
Angolan-Italian cooperation analysed
Bilateral Cooperation
Luanda – The bilateral cooperation between Angola and Italy topped the meeting involving the Angolan prime minister, Paulo Kassoma and the Italian Minister of Foreign Affairs, Franco Frattini, held this Tuesday in Luanda. The fact was revealed by the head of Italian diplomacy at the end of the audience granted to him by the Angolan premier.
The Italian official pointed out the sectors of priority for an eventual cooperation, with highlight to infrastructures, construction of social wards, agriculture, industry, defence, security and professional training.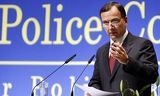 Taking into account his country's experience, he particularised the upgrading of Angolan police officers in the fields of guaranteeing public order in places far from main urban areas, combat to organised crime, piracy and patrolling the sea coast.
He also stated that his country wishes to fund projects to be defined by both governments.
Franco Frattini said that he is counting on Angola's support, while chairing the Organisation of Petroleum Exporting Countries (OPEC), for the success of the G-8 meeting set to be held on the strengthening of dialogue between producing countries and consumers of oil.
On the other hand, the official guaranteed Italy's availability while chairing the G-8, this year, to assist Africa in combating hunger and carry out programmes in the fields of food security, agriculture, energy and infrastructures.
Franco Frattini is here in the country since Monday on a two-day visit.