2008-07-09
NGOs protest Japan's entry controls on members prior to G-8 summit
TOYAKO, Japan, July 9 (Kyodo) - A forum of nongovernmental organizations on Wednesday protested over Japan's refusal to allow entry to 20-30 NGO members on the occasion of the Group of Eight summit in Hokkaido, northern Japan.
The 2008 Japan G8 Summit NGO Forum, which was in charge of coordinating NGOs during the just-concluded summit, issued a statement expressing concern over Japan's immigration controls which it described as "excessive."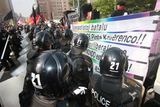 Some 20 to 30 NGO members who arrived in Japan to attend rallies or other events connected to the G-8 summit were refused entry to the country and there were cases in which some members were questioned at airports for several hours, forum officials said.
Several other NGO members had their overseas applications for Japanese visas rejected, they said.
The police mobilized some 21,000 officers from all of Japan's 47 prefectures to maintain security at the summit venue in the Lake Toya resort and surrounding areas in Hokkaido during the leaders' meeting.
NGOs and civic groups held anti-summit rallies and demonstrations every day in and around the venue during the three-day summit but there were no major disruptions, due partly to there being fewer participants at the events than expected, police officials said.
Two days before the summit, four men, including a Reuters cameraman, were arrested after scuffles with police during a rally staged in Sapporo by various groups to call for world peace and the elimination of growing gaps between rich and poor.
A support group for the four held a press conference Wednesday in Sapporo and called for the release of the arrested men.
They said only the cameraman had been released but that the other three are still being held.