2008-07-09
A lockdown on Hokkaido as police outnumber summit protesters
DATE, Japan: They descended on this sleepy fishing town, some with faces wrapped in white bandannas, carrying red banners and shouting slogans.
But the 200 anti-globalization marchers, protesting Tuesday against world leaders meeting at a lake resort a half-hour away, quickly found themselves outnumbered by the police, who formed a moving cordon around them, and followed in half a dozen blue buses and vans.
"This security is really overkill," said one marcher, Bill Hackwell, an antiwar activist who arrived last week from San Francisco. "We're not trying to crash the summit's gates."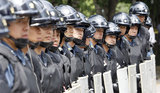 Japan, host to the leaders of the Group of 8 wealthiest nations on its bucolic northernmost island of Hokkaido, has deployed one of the heaviest security operations in the history of the G-8 talks. But whether this has helped the current meeting escape the violence of previous summit sessions is under intense debate, with many here criticizing the police presence as excessive, and overly expensive.
"If violent protesters did not show up, it was because Hokkaido is so far away," said Masaaki Ohashi, vice chairman of the 2008 Japan G-8 Summit NGO Forum, a coalition of Japanese nongovernment groups meeting on the sidelines. "We did not need all these policemen tromping around Hokkaido."
Indeed, activists say this may be one of the costliest and most heavily guarded Group of 8 sessions yet. According to the National Police Agency, Japan is spending ¥30 billion, or about $280 million, for security at the meetings, which ends Wednesday. That is more than double the $130 million that Germany spent on security last year when it hosted the previous Group of 8 meeting in Heiligendamm.
Japan has mobilized about 21,000 police officers, including 16,000 from other parts of Japan, who have essentially locked down an entire corner of Hokkaido, an island about the size of Ireland. That is more than last year, when Germany marshaled about 16,000 police officers and 1,100 soldiers. Japan has also deployed extra police in Tokyo and other main cities, where they stand guard at train stations and street corners and patrol roadblocks.
The police presence was heavy around Date (pronounced DA-tay), which is about 20 kilometers, or 12 miles, south of Lake Toya, the summit venue. Groups of police officers stopped cars for inspection and sealed off roads leading to the summit site. Offshore, armed patrol boats were visible, a rare sight in a nation that does not even have a full-fledged military.
So far, Japan has not seen the sort of violent protests that marred some previous G-8 sessions; tens of thousands clashed with the police and blocked roads in Germany last year. The largest demonstration here came Saturday, when about 3,000 mostly Japanese demonstrators marched in Hokkaido's main city of Sapporo, more than an hour north of Lake Toya. Four people were arrested, including a photographer for the Reuters news service, after scuffles with the police.
Anti-globalization activists here say that the smaller, more peaceful protests reflects Japan's political apathy and the low level of overall violence in this low-crime society. Still, Japanese officials said they wanted the police presence just in case, to avoid a repeat of the protests in Germany.
The buildup also seemed to reflect a broader international trend toward ever-increasing levels of security at global events. Government officials and international relations experts say that ever-growing security is unavoidable, because of the threat of violent protests and terrorist attacks.
They say that security started to get particularly tight after 2001, following demonstrations at a G-8 meeting in Italy that left one protester dead, and the Sept. 11 attacks in the United States.
The tighter security comes as the annual meetings themselves have grown more elaborate. The first such global meeting, in 1975 in France, was an informal gathering of six heads of state and a handful of journalists.
This year, in addition to the core group of eight industrialized nations, including the United States, leaders from 14 developing nations also attended to discuss issues ranging from climate change to African aid. About 5,000 journalists also attended.
For Japan, the conference was also a chance to raise its global profile at a time when it faces economic eclipse in Asia from China and India, the region's rising powers. International relations experts say the security measures were just Japan's way of being safe instead of sorry.
"Japan just wants to be very thorough and be ready for all contingencies," said Junichi Takase, a professor of international relations at Nagoya University of Foreign Studies. "The number of police might seem excessive to Americans or Europeans, but it makes Japanese feel more secure."
However, there have also been extensive complaints of harsh security practices. Police officers have singled out non-Asians for questioning at airports, and ordered hotels across Japan to copy the identification of all non-Japanese. Japanese immigration authorities have been particularly hard on known foreign political activists, delaying or barring their entry into Japan ahead of the talks.
Walden Bello, a sociologist who is a member of Focus on the Global South, an anti-globalization group, said he was questioned for an hour at a Japanese airport, after it took him an extra week to get an entry visa. According to Japanese NGOs, about 30 people have been denied visas or entry at the border, including 23 South Koreans farm and labor activists who were turned away or held up by immigration officials last week.
"It is pure harassment," Bello said. "They didn't want us to come."
In Date, protesters say they face a constant and overwhelming police presence. A few hundred anarchists, anti-capitalists and advocates for Hokkaido's indigenous Ainu people have held daily protests in the town, with some camping nearby.
While the police kept them getting too close to the summit site, on Monday they said they got as far as the edge of Lake Toya. In the distance, on the lake's other side, they said they could see the large white hotel where leaders were meeting, but could only yell their slogans across the wide blue waters.
One protester, an anarchist from Sapporo in a metal-studded leather jacket and rainbow-colored Mohawk, who gave his name only as Yoh, said that the heavy police presence was not a deterrent because it was common at all protests in Japan.
"They don't want us to infect locals with our radical ideas," he said of the police encircling the group.
But residents who watched the procession said that the protesters and the police - and even the summit meeting itself - were all equally unwelcome.
Shoichi Igara, 71, a scallops fisherman, griped that the protesters were scaring schoolchildren, while security measures prevented him from going to sea at the height of the scallops season.
"It's all just a hassle," he said. "I just wish they'd all leave."