2008-07-08
Protest statement aginst J5 police suppression
Challenge the G8 Summit, Peacewalk of 10,000 was done in Sapporo City on July 5. Various people participated in the rally held in Odori Park, and the walk became large-scale to reach 5,000 people eventually.
However, police charged the sound demonstration in the peacewalk where people gather with music thrown from the loading platform of a track build up with sound systems with extraordinary suppression. Though the peacewalk was permitted to include sound demonstration where some people get on the loading platform of the track for manipulating sound systems, four people were arrested in the situation where riot police and secret officers were mixed up a for attack in the demonstration.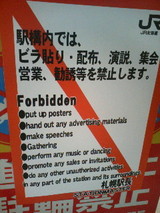 This suppression that concentrated on sound demonstration done within the range of the permitted demonstration application is caused by the police violence on charge of "Violation of the Road Traffic Law", "Violation of the Sapporo City demonstration ordinance", and "crime of obstructing the performance of official duty". The arrested are just DJs playing or driving the track, so they have no reason to be arrested. The Reuter camera person was accused of kicking the police, but media related personnel, one of eyewitnesses, deny it.
The exerciser of overwhelming violence is the police. For instance, they stopped the track forcely, broke the window with policeman's club etc, and dragged out the driver while hanging him. This situation was exposed as Japanese police brutality again, through the report of independent media. We denounce suppression to the sound demonstration by the police, and demand such immediate releasing of all.